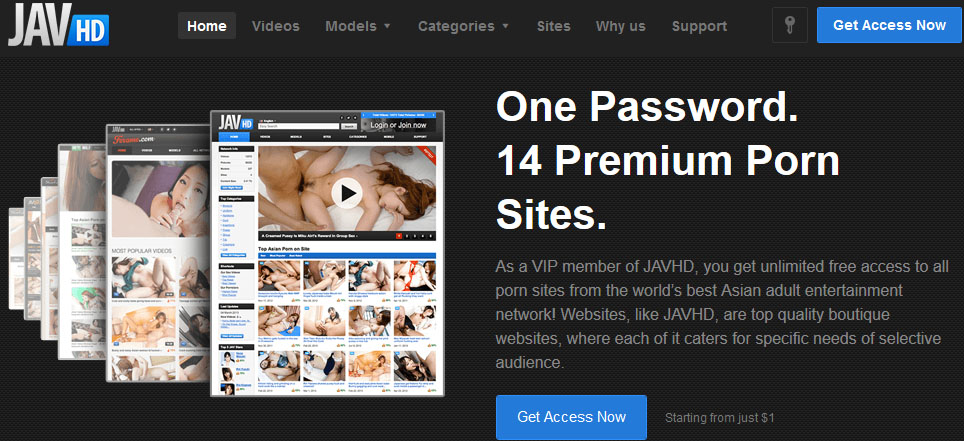 It's quite rare for an all-Japanese porn site or network to avoid the heavy hand of the national censors and actually distribute extremely explicit pornography, no matter how tame it may seem to us Westerners. That explicit depiction of sex acts is only one of the reasons JAV HD is a network worth your time, attention, and yes, possibly your money. There's few other sites and network offering such a large collection of uncensored J-porn and even fewer with sites devoted to squirting, schoolgirls, MILFs and pubic muffs. So perhaps your long, exhausting search for an Asian porno wonderland is finally at an end.
JAV HD's 13 websites all have their own focus: Pussy AV's vaginal obsession, Hey Outdoor's sunny beachside romps, Lingerie AV's bra-and-pantie combos, Hairy AV's pubically hirsute beauties, AV Stocking's and its hosiery-covered legs, AV Anal's devotion to rear-end plugging and playing, the hefty boobage of AV Tits, Schoolgirls HD's uniformed student sluts, Gang AV's gangbangers and gangbangees, the mature harlots of Hey MILF, blowjobs of Ferame, and squirting of Shiofuky, as well as with AV69's idol-focused glamour-porn.
Equally as important as what sites are included in JAV HD's motherly reach is how well they're presented. All sites now offer 720p and 1080p High Definition videos as standard, also delivering 2000px photo galleries in most cases and giving its models detailed profile pages to introduce them to their newest, biggest fans. A few warnings, though, before you rush into a JAV HD membership a little too quickly: don't expect English-language scenes or translation of Japanese dialog; don't be surprised to find a few dupe updates across the network; and don't go hog-wild on your downloading as a flexible monthly transfer limit is in place for all users. (See the full Mr. Pink's JAV HD porn review for full details!)
THE MATH:
With a discount from Mr. Pink's bringing the standard $29.95 monthly price of JAV HD membership down to only $19.95, the value of this irrepressible network only increases. With 13 sites online, each one works out to cost you only $1.42! And, with 17,000 scenes online, you're looking at a cost-per-scene of only .117¢. That's, like, 850 scenes for a buck, man! Throw in photo galleries and you've got an incredible deal that should have any J-porn fan shouting "Saikou!" from the rooftops!