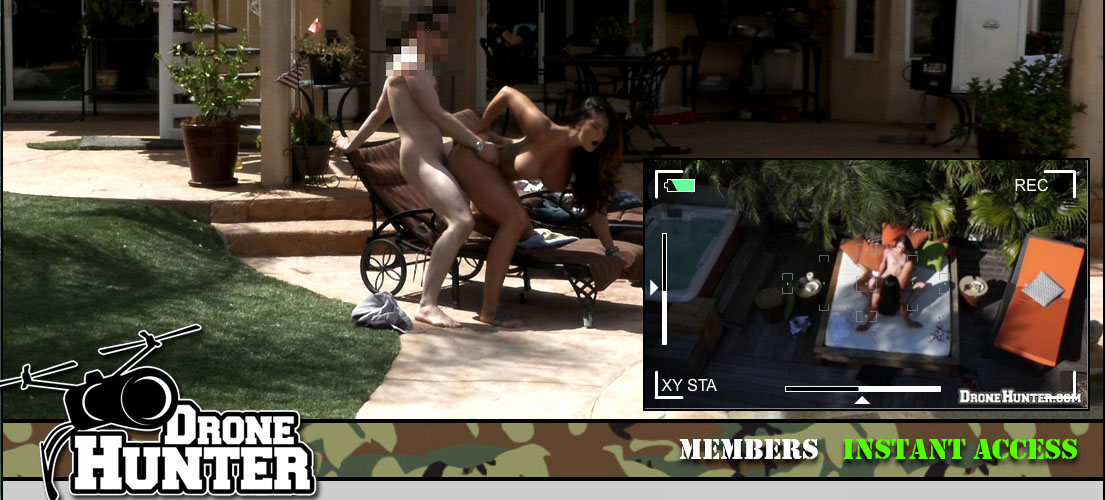 They call themselves "The motherfuckers of porn," but, really, they're more like the surveillance state of porn nowadays. MOFOs, the network home of sites like I Know That Girl and Let's Try Anal launched a brand-new site this week called Drone Hunter and it takes a highly original and unusual view of sexual encounters, taking to the skies via a camera-equipped FlyPro X600 remote control drone unit and peering down on rutting couples as only birds and super-heroes previously could.
Drone Hunter's unique porno perspective comes courtesy of two discreet recording devices: the aforementioned drone equipped with a GoPro Hero3+ HD video camera and a pair of "spy glasses" that, while looking like regular horn-rimmed specs, contains a tiny HD CMOS sensor capable of capturing 720p video from the wearer's perspective. The resulting hardcore shoots are based on the premise that one dude is traveling the country with this equipment and a few helpers in tow. He meets and seduces hot girls, throws on his specs and captures POV sex tape footage while sending orders to his bros to do the same with the flying drone-carried camera. The girls, for their parts, play innocent and naive pretty well, appearing shocked and scrambling for a towel when they spot something lingering outside their 8th floor window.
Currently holding only five scenes – Gianna Nicole and Kaci Lynn in a lesbian tryst; Jennifer White, Alison Tyler, Mercedes Carrera, and Riley Rey in hetero hardcore romps – Drone Hunter is still finding its feet and could very well change its approach after just a few months online, perhaps aiming for a premise that doesn't involve deceit, coercion, and stolen surveillance. Call me a momma's boy if you want, but I like my pornstars to be obviously into what they're doing, not shouting "Fuck you, you're filming me, you asshole!" and running out of frame. But, hey, neat concept MOFOs. Keep flyin'.