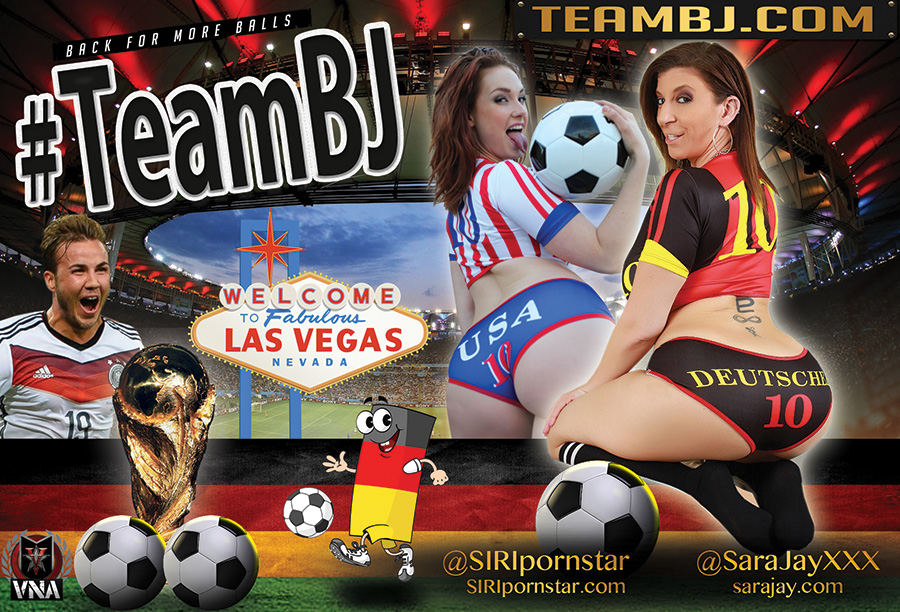 Sara Jay's periodic involvement in top-class competitive sports competition doesn't run particularly deeply, but with Siri in tow, Sara Jay's FIFA 2014 World Cup #TeamBJ offer – in short: free blowjobs for all fans if certain teams won the world cup – aims to deeply satisfy their combined throng of fans. After the competition peak with Germany's extra-time triumph against Argentina at the World Cup Final in Brazil, the expected #TeamBJ celebration has been given a date and venue at which all those who meet the modest criteria can take their place in line and receive fellatio from two bona fide porn queens.
Now, with Germany victorious and (probably still partying with Rihanna), TeamBJ is officially inviting those fans who followed the qualifying instructions – suckees must have followed Sara Jay and Siri on Twitter before final kickoff, retweeted one of their #TeamBJ World Cup tweets, make their way to the location on the day, and can produce a clean bill of sexual health – to, where else, but Las Vegas on September 4th. For North Americans, this could be the last shot they get to be inside the mouths of these two porno superstars; future events will likely be held in Europe. Participants must also consent to being on camera for the official TeamBJ video shoot that will later be available online.
So, your wife has allowed you to use your once-in-a-marriage free pass to extracurricular pleasures and you've both met you've got enough funds at hand to fly to Vegas, book a hotel room, gamble a little, and enjoy the generosity of Sara Jay and Siri (and you're confident you can pass an STD test), you might wanna head on over to #TeamBJ's website and hook yourself up before the July 31 sign-up deadline or forever miss your shot with Sara and Siri.