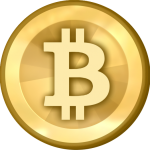 The number of adult paysites accepting controversial online cryptocurrency Bitcoin has risen significantly since Blue Blood became the first to accept membership payments made in Bitcoin back in April of 2013. Joining the ranks of Bitcoin-friendly Blue Blood, sites and companies such as MetArt Network, Score Group, VideosZ, MOFOS (via I Know That Girl), Naughty America, Grooby, and Porn.com (among other sites), as well as online toy store Dallas Novelty and UK escort agency Passion VIP. Clearly Bitcoin is making inroads into the adult entertainment world. And, at least according to Porn.com which saw a post-Bitcoin-adoption 25% sales increase, it has been largely successful. Naughty America CEO and founder, Andreas Hronopolous even looked forward to Bitcoin's eventual integration into the rest of the porn payment world, telling AVN back in January of this year, "I think it will become an industry-wide thing within 45 to 60 days." He added (boastfully, but rightly so), "Naughty America really sets the bar for where the industry heads."
But, as anyone who's been tracking Bitcoin longer than a few months would know, nothing is stable in the Bitcoin world. Silk Road, the largest online market using Bitcoin as its solely accepted currency, was seized from its deep web servers and its alleged founder and administrator, Ross Ulbricht (aka Dread Pirate Roberts) arrested, charged and indicted on multiple felony counts. This seizure saw Bitcoin values fluctuate wildly for months and although they've now settled a bit and appear to be finding alternative trading routes now that the popular Mt. Goix exchange has closed amidst rampant speculation, there's always the risk that a decentralized currency such as this cannot maintain a baseline value without the rigorous currency control usually handled by governments. And that, my friends, can be dangerous for consumers.
Ok, so clearly I'm not an economist, but what happens when you realize your MOFOS membership (paid in Bitcoin) cost more last week than it would have tomorrow, or when Bitcoin exchanges are brought down by hackers, DDoS attackers, and government bodies seeking complete control over all currency? You think Naughty America's Bitcoin program will survive another hit to the already unstable cryptocurrency market? What's the unconventional alternative payment method that'll move in when Bitcoin falters or falls? Stay tuned to Mr. Pink's blog for another round of Bit-porn discussion early next week where we'll hear all about Zero Tolerance's plan to beat out Bitcoin altogether… with livestock!?