All Hallows' Eve is almost upon us and there's one adult studio that's already unleashing its annual slate of Halloween-themed (and therefore costumed) carnal encounters. Babes, the six-site network that's home to Elegant Anal, Step Mom Lessons, and Black is Better (among other sites), has already welcomed four very sexy women to its roster in celebration of the spookiest (and most scantily clad) holiday.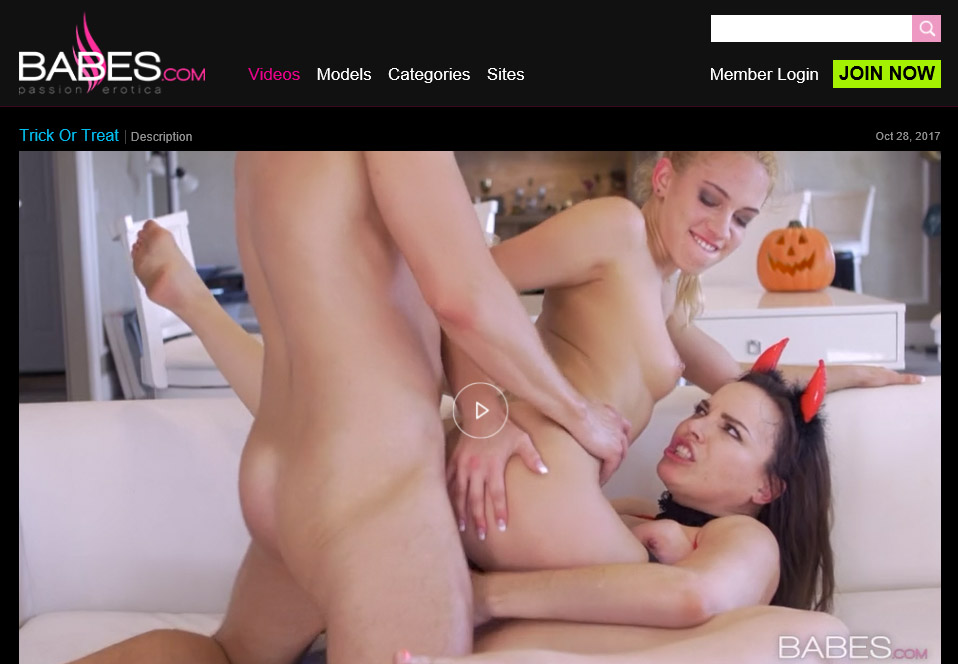 In Moving Day for the main Babes site, skinny blonde sweetheart Alexa Grace is unpacking her things after moving to a new apartment when she finds a Wonder Woman costume she must've stashed after a drunken Halloween a few years back. Slipping into it and finding it a perfect fit, it isn't long before she's seducing the last remaining mover into letting her work him over, cape and all.
The stunning curves of Lena Paul once again grace the Babes servers, this time for Black is Better's Haunted Honey. At home and in the throes of masturbation, a white sheet thrown over her kneeling body, Lena is startled when her husband, fearing an intruder then observing a "ghost," walks in armed with skillet. Apologetically unzipping his pants, she gives her lucky guy the chance to pound her towards satisfaction before taking his load in her hungry mouth.
Yet again for the flagship Babes site, the third scene to appear stars Darie Dolce and Milana May as a pair of Sacredy Cats who, when watching a horror movie in true Halloween spirit, Milana is startled and spills popcorn not on, but in Darcie's cleavage. They begin playing around, tossing kernels at each other then eating them up wherever they land, then things get a bit steamier, they kiss, shirts are removed, and some very steamy sex takes place in their backyard, their moans only just drowned out by Night of the Living Dead projected on a nearby wall.
Damn, usually Halloween porn is all stupid pop-culture costumes, candy fetishization, and young girls. Thanks, Babes, for a more sophisticated take on the holiday that turns everyone into a little ghoul again.