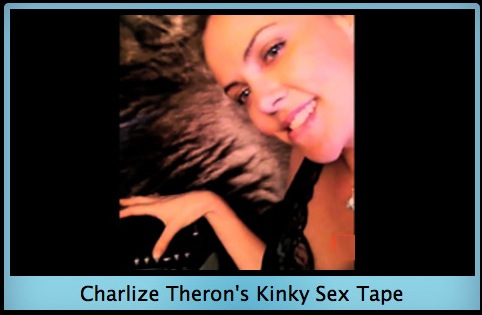 Aside from her Oscar-winning turn as executed serial killer Aileen Wuornos in the 2003 film Monster, there have been very few roles Charlize Theron has played that didn't cause her to become the subject of sexual daydreams and fantasies in the minds of both men and women all around the world. Today, though, Ms. Theron showed more of herself than ever before and bared her sexuality to a surprised (but not that surprised) public as footage and photos stolen from her cell phone hit the Internet, causing a million instantaneous Sunday erections.
Shown taunting the lens of her camera-phone and promising a scene so scandalous it'd ruin her career if made public and make all other celebrity sex scandals seem like a paparazzi-snapped stroll in Central Park, the South African former model, bares her teeth, gives a piercing stare, and speaks of being "so nervous" about this particular production, her very first sex tape. Wha?
A whip cracks in the background, Theron throws on some eerie avant-garde chanting CD and then it happens; the camera turns to reveal the sultry Oscar winner's partners in porn, two men gussied up in restrictive leather bondage gear. From the other side of the room, Theron taunts and orders around her slaves, gently instructing them to dance. Then, without warning, a guttural bellow is heard, scalding hot milk is thrown at the muted, immobilized sissies, and the woman who identifies herself as, and most definitely is Charlize Theron is suddenly standing beneath two hooded, masked figures, gyrating against their cloaked bodies and getting dangerously close to fellating their oversized plaster probosces. Who knew A-listers that weren't Richard Gere got this kinky?*

*Apparently Funny Or Die knew. Those fuckers.