Now that Xbox One and PS4 consoles have been revealed at the Electronic Entertainment Expo in Los Angeles, one might think there's nothing more thrilling on the immediate horizon, especially for the increasingly adult gaming market. With the recent announcement of VRSexKit, though, ThriXXX aims to convince more adult gamers and porn fans alike to part with a hefty sum all in the name of an unparalleled simulated experience. Unlike the Xbox One and PS4 consoles, though, this package is all about sexual satisfaction.
Thanks to recent advancements such as Microsoft's Kinect camera, digital display glasses, neuro-operated controllers, and haptic sex toys, ThriXXX is confidently packaging a range of devices together with software that will see users fondling and even fucking the bodies of avatars existing only in the digital (or virtual) realm.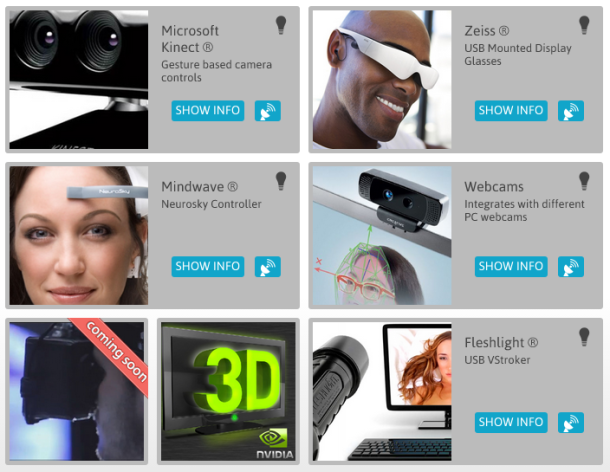 Combining the power of the Kinect's gesture based controls, a Zeiss pair of USB mounted display glasses, Mindwave's Neurosky Controller, advanced webcam technology, 3D graphics from nVidia, and Fleshlight's USB Vstroker, ThriXXX aims to have users watching and interacting with porn in an entirely immersive fashion. From the 3D graphics appearing onscreen to motion detection tracking their movements (basic missionary thrusting, of course), speech recognition software reacting to verbal commands, a brainwave-operated controller tracking their rising intensity, and Fleshlight's VStroker doing everything else (but more genitally-oriented), ThriXXX's VRSexKit (at a projected cost of less than $1,500, promises to be the next legitimate step towards a completely virtual, completely satisfying sexual experience.
Not everybody is on board, though, and we'll address some of the naysayers' complaints later this week right here at Mr. Pink's.