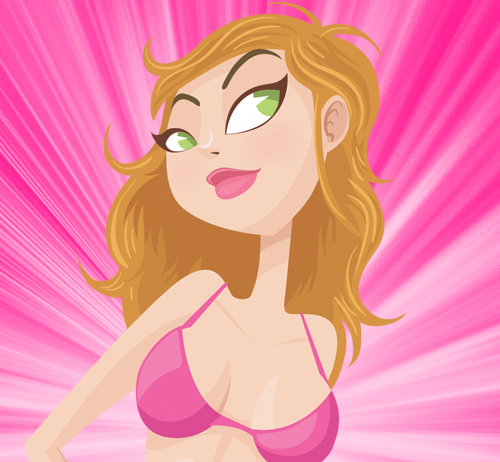 Dear Missy Pink,
My problem is with my girlfriend. We've been seeing each other for about a year and she has a fetish about her panties. She can barely open her dresser drawers, where she has what looks like hundreds of pairs she's bought. I don't mind that part, they're pretty and sexy and she looks hot wearing them, but, she doesn't want to take them off when we're having sex. She says they make her feel wild when the silky material is rubbing against her woman areas. I have to just slide the crotch of her panties to one side to get into her and in all this time I've never had sex with her completely naked in bed. If her panties could talk, there's stories to tell, but I'm not finding a very happy ending.
Kinky Clothes
Dear Kinky Clothes ;
Your question reminds me of an old saying, "Panties aren't the best thing on earth, but they're right next to it." With that being said, it sounds as though your girlfriend definitely has a fetish for silkiness against her intimate erogenous zones. It's a bit difficult when a certain kinky trait is not shared by both in a relationship, but, compromise belongs in the bedroom, the same as it does in the office.
Maybe it's time for you to do some shopping, purchase a few pair of sexy, crotchless panties , giving her the ability of leaving them on, and still opening the gateway of gooeyness for your venture. Offer to get a bit wild and take a shower with her, when she's totally naked at that time, lather up the lust and get clean and dirty at the same time. There are ways around your issue and not make it a deal breaker to your relationship.
Everyone has a little something hidden in their psychological make-up that is a turn on for temptation and tease, for some it is noticeable, for others, it may remain in just a fantasy state of mind. When the warmth of your body rubs against the softness of her underwear, which stimulates her skin and nerve endings, she finds that to be a major turn on, and, since you didn't mention anything about their being issues as far as achieving orgasm and such, I'd say things must be satisfying as long as she can have… Hanes her way.
You want her to be satisfied, and you know what it takes for that to happen, although, your excitement needs to be addressed as well, which means a heart to heart talk and a meeting in the middle. Don't make the conversation, "brief," be as open as her thighs, and as truthful as the fit of her panties. If it means going from the shower to the shaft, before she's stepped into her bloomers, then so be it. Don't throw your relationship in the trash, because she won't keep her panties in the drawer.
Oh, and who says her panties can't talk, after all, there is a set of lips inside of them, move in for a closer reception, and maybe what you have to say in return will make her want to shed the silk for the natural side of hardcore pleasure.