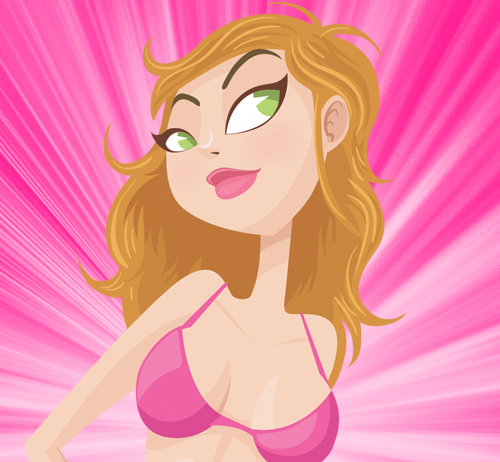 Dear Missy Pink,
Our daughter just moved out of the house for college, my wife is suffering from the empty nest syndrome, as well as no sex drive! I have wined and dined her, only to be told that she's 40 years old now, those days of hot wild sex are a thing of the past. I'm not ready to put it behind me yet, maybe a woman's point of view can help me over this horny hurdle?
Left High and Dry
Dear Dry;
Well, I have good news and not so good news for you, depending on how you look at it. The positive being, you're not the only man that suffers from a lack of lust in the bedroom over this very issue, and the more negative angle stems from the fact it may take some work on your part to help her overcome….to cum.
Many times women basically leave their life behind as they bring a family into the world, they become a cook, housekeeper, doctor, financial wizard, and everything but a youthful, seductive woman. The causes soon take over and then suddenly when everyone is grown and gone, they don't know what to do with themselves, they feel old and will act accordingly.
Your job, should you choose to accept it, bring back that wild tigress that slid across your sheets many years ago, with thighs open and eyes twinkling at the prospect of hot, hardcore sex with you. Sometimes marriage can put a damper on the excitement, suddenly you're in bed with a relative. Take plenty of time with foreplay, not just the touching of her body, but the stroking of her mind as well. Tell her how much she turns you on, bring her flowers, share pillow talk, show her the advantages of having the house all to yourselves, make her realize you are turned on by being married to a MILF.
Make your moans loud, let actions speak louder than words. When the lights go off, turn the charm on. Hold back on your own masculine desires until she experiences multiple orgasms, she will indeed feel like not just A woman, but YOUR woman again, and she will be eager to feel you penetrating the area that will join your bodies and hearts.
Oh, and as a gentlemanly gesture, you be the one to get up and get a warm washcloth, bring it to her and then slide it up the inside of her thighs slowly…who knows, the terrycloth temptation may have her in the mood for round 2!