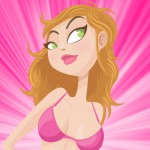 Hi Missy Pink,
I think maybe my question is one a lot of guys have, but might be afraid to ask. I LOVE oral sex, there's nothing like a hot blow job to really put me in the mood. My problem is, I can never find a girl that likes taking it the way I like giving it. It's a turn on to grab her head and force it down on my stiffness, really owning her mouth, but, usually the babes get mad and put up a fight with their head when I try to do that. Why won't women let men take control? I'm 29 years old and feel like I'm in my prime, but, I'm not getting what I want.
Macho Guy
Dear Macho,
And I use that term loosely. To be 29 years old, I have to say, you still have a lot of growing up to do. Unless you're in a relationship where there's the dominance and submissive side between partners, there is no control to be had. Sex, like many other aspects of life can be mutual and equal, and when you find that balance, that's when you've matured and will find the women that enjoy going to bed with you. When you start using your head….you'll get more of it!
Being force fed through fellatio is possibly one reason why women shy away from the act of oral sex, to them, having their face bashed up and down on a boner isn't exactly the type of foreplay that excites them. Lay back, what's your rush, let her lick and suck in a rhythm that's not only pleasing to her, but also will become very exciting for you, and, you'll receive much longer intervals of her satisfying sucking.
Of course, that's not saying your desire to feel as though you are indeed a macho man should be swept under the rug. When things really heat up, there will be those moments when entwining your fingers through her hair and offering some mild guidance would be a turn on, but, when pulling her face down too far, possibly hitting gag reflexes, that certainly kills the mood quickly.
Some women may enjoy that type of brutal blow job, and then it will be a match you've been waiting for, but give your relationships time, grow together, experiment, do roll playing, have fun in bed, it will enhance all aspects of foreplay and the hardcore excitement as well.
Just because your mattress is firm doesn't mean you have to be. Soften up a bit on your demeanor and appreciate how hard you'll become in the process.