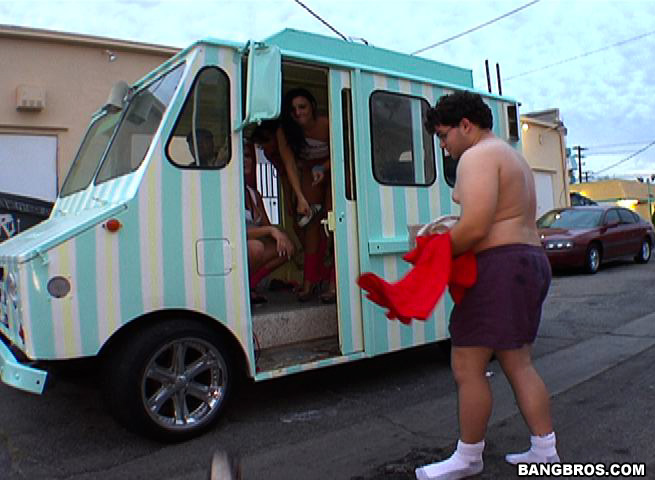 The Bang Bros' website Fuck Team Five has found itself in plenty of rather sketchy situations in its short online lifespan. There have been humiliating mid-blowjob phone calls to some guy's poor wife, a three-girl chant of "Nothing gets inside Madison Ivy's butthole!" and dozens upon dozens of amateur Miami and LA guys getting a chance at pornstar pussy paradise. One episode in particular is especially noteworthy to me because I occasioned to meet one of the "random" guys Fuck Team Five picked up while cruising down Melrose Blvd. on a gorgeous Southern California Sunday afternoon. Then he was a 21-year-old aspiring standup comic fresh off the bus from Godknowswhere, USA. His name, well, for a long, long time I completely forgot his name, but with his starring role in Todd Philip's (Road Trip, Wedding Crashers) newest opus, Project X, plus a genuine background as an adult performer, Jonathan Daniel Brown might not be a name we'll be forgetting anytime soon.
One day back in 2008, Brown, having only recently arrived in Hollywood, was walking down Melrose minding his own business when a white van pulled up and out jumped three of the most astounding slutty pornstars known to mankind: Ashlii Orion, Jennifer Dark, and Phoenix Marie. Orion, surprisingly, managed to recall quite a few details of Brown's participation and how he fared in his first onscreen performance.
"I remember him being this cute little nerdy guy, shy, and super nervous!" Orion told AVN. "He was really nice so I felt bac that I had to make fun of him in true Fuck Team 5 fashion." It seems being pasty, chubby, and bespectacled, and struggling to make it as a standup comic – which is when I met him while attending a mutual friend's "show" at a dismally vacant East Hollywood Ramada Inn – hasn't relegated this so-called "nerd" to the depths of social isolation. Instead, he's fucking Ashlii Orion until he "popped all over [her] ass." Kudos, guy I met at a shitty comedy/karaoke thing in a crummy hotel not-really-but-sorta-in Hollywood a few years back. Kudos, indeed.
In closing, all I can say is thank your lucky stars that more also-ran strandups of Hollywood aren't nabbing themselves small porn roles. That scene's already enough of a circle jerk as it is.
Hyuk-hyuk.