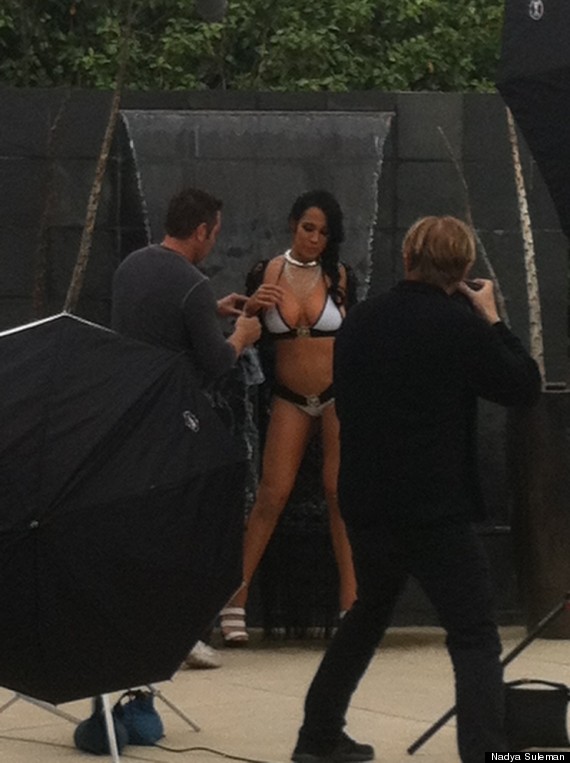 Hey, remember that maternal train wreck the tabloid media dubbed "Octomom"? And remember the rumors that flew around suggesting she'd be taking to fucking on camera to keep her flock of 14 fed, clothed, and housed? Well, the rumors finally came true, with Wicked contract director Brad Armstrong helming her maiden venture into what could be the career that saves her from losing her La Habra residence after she filed last month for personal bankruptcy. That's right, folks, the single mom who found worldwide notoriety for squirting out eight rugrats in one sitting is now a genuine adult performer.
While exact details of Suleman's shoot are still largely under wraps, a few tidbits have leaked and are now being thrashed around the Internet, possibly as a respite from all the cannibalism stories that've been popping up of late. When her scene, which is masturbation-only, comes out, the curious can expect to see Suleman covered in, of all things, SpaghettiOs. Yup, SpaghettiOs. (No, I don't know what the fuck is up with that particular prop either.)
Of her first experience pleasuring herself in front of a camera, crew, and eventually a home-viewing audience, Suleman said she owed a lot to Jessica Drake. "She opened my eyes to a whole different world of self-pleasure that I could never have imagined." While the company releasing the movie still hasn't been identified, Suleman seems quite happy with their professionalism, saying "I don't think I could have asked for a better crew to work with. They were so patient and willing to teach me." Clearly given a substantial confidence boost, she told Huffington Post "reporter" Naughty But Nice Rob "They made me look so glamorous, and for the first time in my life, I felt beautiful and sexy. I'm very excited for it to come out!"
Yeah, that's what she said about the octuplets, too.