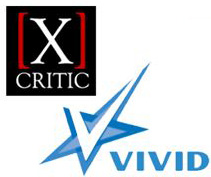 For the past few months, porn's most well-known studio, Vivid Entertainment has been joining forces with XCritic to conduct a comprehensive survey of porn viewers, their habits, their preferences, and their opinions about the numerous factors that define how porn is produced, for whom, and for what specific purpose. Does anyone still watch DVDs? Are MMF threesomes more popular than FFM threesomes? Would home viewers perform in an adult feature if it didn't require sex? What if it did?
XCritic has been slowly releasing the results of the polls and some of the answers have been quite surprising.
– More than 1/3rd of respondents still watch retail DVDs over online, digitally distributed content.
– Despite the continued rise of gonzo, a feature production is still the most watched porn format.
– Although double-penetration scenes have become more commonplace over the past few years, most guys still prefer two girls and one guy in threesome scenes.
– More than half of respondents claim to be always aroused when viewing porn, meaning blood is flowing away from other areas of the body to keep an erection, possibly to the detriment of logical and critical faculties; hence: your regrettable Coke bottle "accident".
– Most respondents believe the amalgamation of Internet and television will result in more porn viewing.
– Lindsay Lohan is the celeb most desired to be seen fucking in a sex tape, low-res cell-phone footage or not.
– The most popular porn categories were anal and girl-girl, apparently by a huge margin.
– Almost half the men responding would take a non-sexual role in an adult production, while nearly 40% would say yes to a sexual role!
– And, perhaps most surprisingly of all, more than 73% of respondents do not hide their porn viewing, with more than a third enjoying porn with a significant other.
Vivid and XCritic are continuing their polling, so keep your eyes peeled on Mr. Pink's for more results as they roll in.