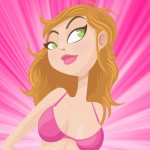 Ms. Pink,
I've read your articles and I hope it's alright for a gay male to ask a question. I'm in my late 50's, and have been with the same partner for 19 years, but, our sex life has gotten more than stale. It seems nothing I do anymore is exciting to him, he's grown tired of me and I must admit, I have fantasies that I've never told him about, or anyone else before now. I'm not very well endowed, in fact, my manhood is quite small, and the thought of another man humiliating me about the size of my cock while spanking me is the only thing that gets me hard enough to masturbate. I wouldn't want anyone to find out about my kinky desires, but I'm not sure how to feel that type of turn on.
Over The Knee Needs
Dear Friend;
First of all, never feel shame over your fantasies, the mind works as it does and there are many things we can control in our lives, but drifting, desirable thoughts isn't one of them. Yes, we can control whether we act upon them or not, but, they'll slip in when you least expect it, it's human nature. You can be making passionate love with the person of your dream, having everything absolutely perfect at that moment, but, at the time of orgasm, your mind suddenly shifts to something totally different, it's just the way our libido works, it's confusing and exciting, all wrapped up in one morsel of life.
It sounds as if you might be making a circle of sorts with your BDSM fantasy. First of all, you get sexually turned on at the thought of humiliation and spanking, but you also don't want your long time partner or anyone else to know, which in turn feeds the fire of the same fantasies. It's as if you're being punished for having such thoughts, hence, the spanking aspect. And of course, the being ridiculed over having a small cock is also a form of verbal brutality as well.
Meaning, the same items that give you an erection for masturbation are items that bring a subconscious guilt as well, which make them even more taboo. There's a submissive side to you, and possibly somewhere back in your younger years, you were humiliated by someone and it took a turn into a sexual nature, and you've remembered that type of stimulation, now making you long for it once again. You want someone else to control the dynamic in power, and, the spanking is all a part of the humiliation, making it a verbal and physical desire for you.
The question is, do you really want to experience this lifestyle or is it just something in your mind that says if you have it, then everything will be beautiful in your world again. There are many different ways of being degraded in a submissive situation, such as body worship, foot worship, bondage, even menial tasks such as cleaning someone's house naked, scrubbing floors, toilets, the list could go on endlessly, but for you, the act of being spanked is the main focal point of what you want.
Being gay has nothing to do with your secret desires, these things can live in the mind of people from all sexual orientation. If you don't feel confident in discussing what you'd like with your partner, then think of a friend, someone you trust, express your desires, even if it's a female that may have cuckolding tendencies. If she has a male significant other that would be open to a bisexual relationship, share a threesome, get a taste of what you're wanting and see if it still holds the same power as it does for you to masturbate by.
I would recommend however, no matter who you experience this fetish with, be open and honest with your partner, at least tell him what's in your heart, what you need at this stage of you relationship, be faithful in the fact that you've shared many years together. He may surprise you and partake in the things that intrigue you, to spice things up. You said nothing you do seems to turn him on anymore, which means he's wanting something different as well. Turn yourself over to him with honesty and he may then surprise you by turning you over his knee.