You can't trust anyone these days. Whether it's your mortgage lender, health insurer, or someone personally, intimately close to you, it often seems everyone we rely upon is bound to let us down, deceive us, or deny us at some point. For the gullible, easily influenced women of London, England, however, there's a mysterious new entity roaming the streets and threatening to pull them from everyday life into a temporary flurry of taboo sexual activity. FakeHub, the network home of seven sites all built around a premise of deceit and coercion, sees taxis, driving schools, hospital, casting agents, and other staples of the social environment corrupting those that come in search of aid or assistance. Fake Taxi picks up women who agree to suck and fuck in lieu of paying a fare. Fake Hospital replaces medical treatment with heavy-handed molestation and gurney sex. Fake Cop breaks laws left, right, and center, snagging some civilian pussy while on duty. Four sites all rendering some version of the "dirty casting agent" trope – Fake Agent, Fake Agent UK, Public Agent, and Female Agent – again push boundaries, test taboos, and cement FakeHub's reputation as one dynamic and determined new British studio.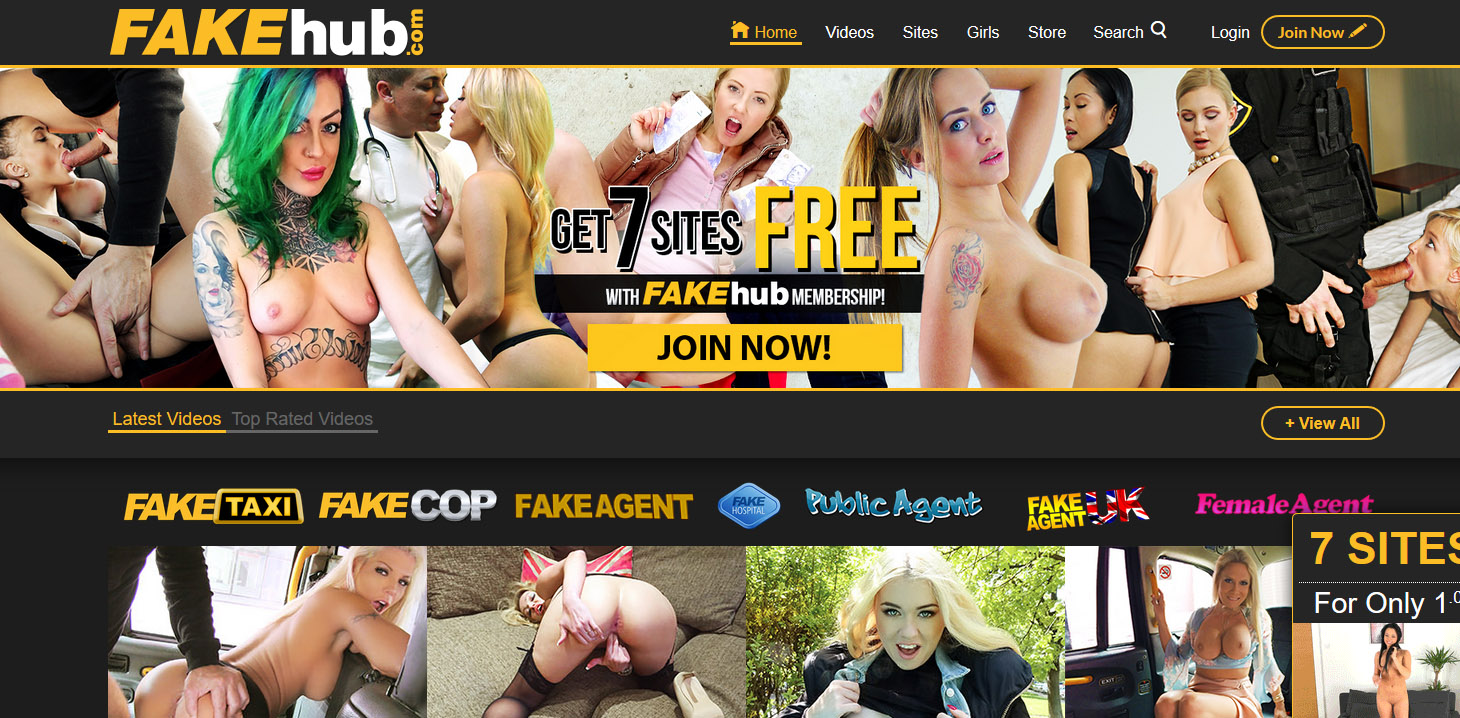 Now discounted by Mr. Pink's to the supremely affordable monthly price of $17.95, the already hefty 2,479-scene network archive is fairly evenly distributed among the sites, every site but Fake Agent UK delivering weekly updates to their own archives. Although a few other Fake-branded sites exist off-network – Fake Driving School being arguably the best – the seven making up FakeHub are still a damn fine deal for reality-porn fans.
THE MATH:
The seven FakeHub sites can be access for one month at $17.95, leaving each site costing $2.56-a-month. The 2,479 scenes now online can be seen as costing approximately 0.72¢ each. Taken as a whole, that might not be an offer that'll blow you away, but after examining what FakeHub seems so proud of, its wild, sweaty, casual romps and realizing that each gem of an encounter with, let's say, the utterly dreamy and delightfully curvy Ava Dalush, international superstar Armana Miller, or seven-time taxi-cab-conquest Alessa Savage costs less than one solitary cent, you'll be diving headfirst into FakeHub's seemingly endless supply of risqué real-world carnality.