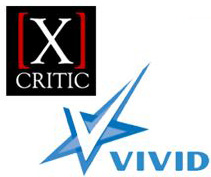 After unveiling some of the more surprising results from their first few surveys of porn viewers, Vivid Entertainment and XCritic dug even deeper to discover just how much porn people are watching, why they watch what they watch, and who they're most likely to while away the hours watching fuck on their TV or computer screen.
– Two-time AVN Female Performer of the Year, Tori Black was voted the most popular female star, followed by Lexi Belle and Kayden Kross.
– Jenna Haze beat out Mason, Joanna Angel, parody maestro Axel Braun, B. Skow, and Robby D. as everyone's favorite director; a huge relief for Ms. Haze, I'm sure, consider directing is all she does these days.
– More than half of respondents use blogs and Twitter to keep tabs on and interact with their favorite performers.
– Star performers also proved to be the most significant motivating factor in fans' deciding to buy a particular release.
– Viewers clearly use porn for inspiration as well as masturbation, with well over half of respondents trying positions and moves from porn with a partner and noting that their efforts were very successful!
– Most viewers consider themselves moderate watchers of porn and regard it as a positive contribution to our collective culture.
Most notable, though, was the overwhelmingly positive response to the idea of dating a pornstar, with more than 85% of respondents claiming they'd be ok with dating a woman who fucks other men on camera for a living. And, even more surprisingly, more than 60% of viewers would be so comfortable with such a situation they'd even marry their theoretical pornstar girlfriend. That's certainly one result I didn't see coming!
Vivid and XCritic continue their joint mission to investigate and elucidate the culture of porn. Pornstars around the country, meanwhile, are fending off proposals of marriage with surprising dexterity and effectiveness. (Although Twitter's 'block user' function surely helps.)