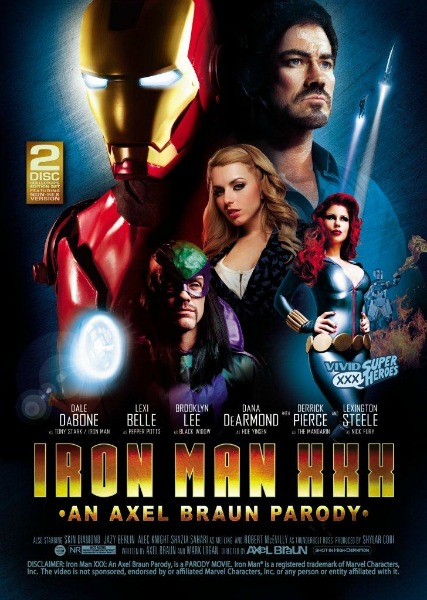 It seems there's no stopping the superhero movie juggernaut. Not only did Joss Whedon's movie adaptation of Marvel's The Avengers become the third highest-grossing film of all time soon after its May 2012 release, but it cemented plans for more Marvel properties to make the transition from printed page to silver screen and the already widespread availability of explicit adult parodies of said Marvel properties into overdrive. The undisputed king of porn parodies, Axel Braun has already turned his hand to Marvel characters more than once – his XXX interpretations of Spider-Man, She-Hulk, and The Avengers won rave reviews and confirmed porn parodies as the hottest ticket in town – and now the master is turning his hand to, of all things, the story of a dying man imprisoned in a suit of iron.
The success of two previous Iron Man films, along with Robert Downey, Jr.'s charisma, might've guaranteed a ton of pre-release interest for the forthcoming Iron Man 3, but such hype doesn't always translate into sales of a derivative porn parody. With Braun's track record, though, he's not likely worried. The trailer for his upcoming Iron Man XXX parody has finally been unveiled and, boy, it doesn't look like Braun's pulled any punches this time around.
Iron Man XXX: An Axel Braun Parody stars Dale DaBone as billionaire industrialist Tony Stark and as his armored superhero alter-ego, Iron Man. DaBone is joined by superbabes Lexi Belle, Brooklyn Lee, Shazia Sahari, and Skin Diamond, with Lexington Steele reprising his crucial role as Nick Fury, director of S.H.I.E.L.D. But who landed the pivotal role as the movie's villain, The Mandarin, played in the official film by Ben Kingsley, I can hear you asking? Watch the trailer, bro – it answers all your questions and raises a few new ones, all in preparation for the release of Iron Max XXX: An Axel Braun Parody next month.