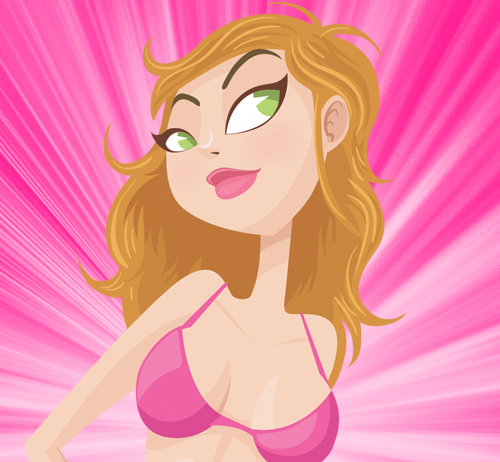 Missy Pink;
I'm having trouble sleeping, eating, and concentrating on work, the only thing I seem to have no trouble doing is thinking about a man I met the other day. First of all, let me say, I am married, 7 years ago I said, "I do," and thought I would always abide by my vows, but, I've never had anyone turn my head like this guy. A month ago I slipped on some steps and hurt my ankle, a friend drove me to the doctor's office, where the attending student doctor was the first to come into my room. He was gorgeous and my heart skipped a beat! Our eyes locked and I think he was feeling the same chemistry as I was. Let me say, I've never, ever given anyone a second glance before, always faithful, but, this man really rocked my world and I'm due to go back in a few days for a check-up to my sprained ankle, and I have to admit, I'm anxious and excited. I'm ashamed to say this, but when having sex with my husband, I fantasize I'm with the student doctor, and, I'm masturbating many times a day with the same fantasies. I feel like a horrible person, but, I can't stop.
Dearest Friend;
Well, it sounds as if the medical attention for your ankle went straight to your head! On your return visit for a check-up, you may want to see if they can write you a prescription for the seven-year-itch you seem to be experiencing.
A lot of things will factor into a lightning bolt, eyes-locking, heart racing, moisture building moment shared between two people. Luckily, for the most part, many times it turns out to be just a coincidental, one time only type of occurrence, enough to set your mind awhirl as your panties hit the floor.  There is something called endorphins, and when those kick in, they can have a very powerful impact, especially on your sexual desires. It could have been a certain expression the student doctor had when he walked into the room, his aftershave, the crisp, white, starched jacked he wore, boosting your appreciation for a man in uniform, a thousand things could have sparked those invisible little gremlins that reside within the brain, wreaking havoc with your happy home life.
Since you mentioned fantasizing about him when having sex with your husband, and also during multiple solo masturbation sessions, I'm assuming your attraction was completely physical, which, there's nothing wrong with that, we all need that spark of something now and then to awaken dormant desires, but, since you're wearing a ring on your left hand, it's better to leave it only to your imagination.
If you are feeling horrible over the image of this man in your mind, think of how consumed you would be if you were to act upon it. Sometimes dreams are much better than reality, that's why snooze buttons were installed on alarm clocks, to keep the dream alive!
Take your wild desires by the hand and lead them into your own bedroom, with your very own husband, do a little more foreplay a bit more hardcore action, and leave him feeling more than just drained after an orgasm. Don't replace his face or body with anyone else's, remember it was love that brought you together, and faithfulness will keep it that way. It never hurts to fantasize, it's normal, healthy and exciting, so don't beat yourself up over it, but do keep it where it belongs… in your mind, along with thoughts such as what to fix for dinner, and did you remember to mail in the mortgage payment.
When you go back for your check-up, put your best foot forward when having your ankle examined. Remember when he puts the stethoscope to your chest, the heart he hears, beats for your husband.