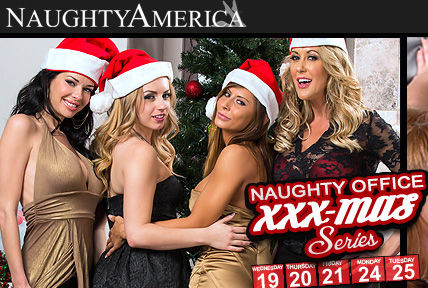 Last week we brought to your attention the Christmas celebration planned by those saviors of suburban sexual malaise, Naughty America, a celebration starring four of porn's most desirable women, Lexi Belle, Madison Ivy, Veronica Avluv, and Brandi Love entitled The More the Merrier. Well the individual chapters of this holiday sextravaganza are now online and lead into the December 25th launch of a scene that's guaranteed to stuff your stocking this holiday season.
Veronica Avluv came first and landed on Naughty Office December 19th. Veronica's boss, Bill Bailey, has hired a clearly incompetent young woman as his new secretary and the MILFy brunette is seriously pissed. Mr. Bailey, though, ever the consummate professional, manages to soothe his senior employees distress the only way he knows how: giving her the ride of her professional life right there on the desk!
For a girl just hired into a new position, Lexi Belle doesn't seem to be exhibiting the proper professional conduct: she's watching porn on the job. Bailey senses an opportunity – proof he's a cunning deal-maker! – and invites Lexi to the office Christmas party, where the only present he intends to unwrap is her.
Ever the accomplished professional, saleswoman Madison Ivy impresses boss Bailey by making a big-time sale. Giving her a bonus – a real bonus, too, in an envelope and everything! – Bill is surprised to find his attempt to plant a wet one on the married Madison is reciprocated with a sudden unveiling of her spectacular rack. Consider it a professional perk!
The last to present herself to boss Bailey is Brandi Love and she's all flustered and frantic because of pressure from corporate, who's pushing this office manager to meet impossible deadlines. Even when there's nobody else around but her immediate superior, Ms. Love finds a way to relax and gather herself and her focus. Luckily for Bill, he gets to be her deep tissue shiatsu massage… only harder, faster, and with the illicit aura that makes office sex an unfathomably arousing fantasy, or in this case, reality.
So, once you've unwrapped your socks 'n' shorts 'n' circular saws, ditched the family for a post-turkey "nap" and logged onto Naughty America come Christmas day, be sure to catch up with Veronica, Lexi, Madison, and Brandi as they launch themselves, all four, on Bill Bailey, the luckiest working stiff in Naughty America. And be sure to check back here for the full wrap-up – if you can pull yourself out of the inevitable food coma, that is.