Australia, like much of the rest of the world, has been knocking back enough highly-caffeinated energy drinks to (possibly) kill its entire horse population (maybe) for almost twenty years. Now, though, there's one less brightly decorated, warning-bearing can at the 7-11 with controversial energy drink MosKa being banned by Australian authorities.

MosKa, a "natural herbal" beverage designed to enhance sexual experiences, was pulled from shelves and banned throughout the nation after it was found by Australian authorities to contain Levitra. A trade name of Vardenafil, an erectile disfunction treatment, Levitra can cause priapism, also known as "the boner that wouldn't go away." Priapism is the inability of an erection to recede back into its usually flaccid state. An interminable erection might seem like fun and games, but priapism is known to cause permanent damage, and there's the risk of hearing loss, too. Most endangered, though, are those with heart conditions, but that's a pretty standard energy drink warning that nobody gives a hoot about.
MosKa has said the infringing batches of its product were externally produced and, as such, it can claim no knowledge of the inclusion of Levitra. "We are devastated that the overseas OEM supplier for MosKa energy for adults had included an undeclared ingredient, Vardenafil (Levitra), within the natural ingredients," reads a statement from MosKa's website. "Vardenafil (Levitra) is a prescription only substance." Yeah, to give you raging hard-ons when you just can't make 'em by yourself anymore.
An otherwise healthy, sexually able guy with a throbbing, aching erection that won't go away? That doesn't sound too bad… until you consider that a common treatment for priapism involves a Winter's shunt: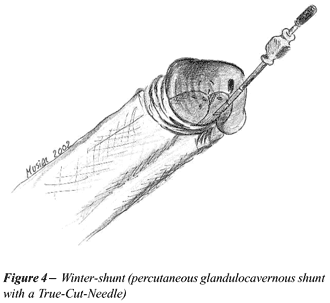 Yikes! That's enough to scare any caffeine-addicted energy drink drinker into relative sobriety!