Mormonism was once the fastest growing religion on the United States but has now been overtaken by Islam, further pushing the already ridiculed Christian sect onto even more obscure playing fields. The devoted flock were not happy and launched a campaign to win back followers around the world. Coming up against broadway musicals, the rising popularity of atheism, a barrage of memes, and simple rational thinking, the Church of Jesus Christ of Latter-Day Saints has persevered and more than tripled its membership, now counting more than 15 million believers worldwide. But how many Mormons are not only into porn, but keep their faith at the center of their most secret sexual fantasies? More, it seems, than you'd think.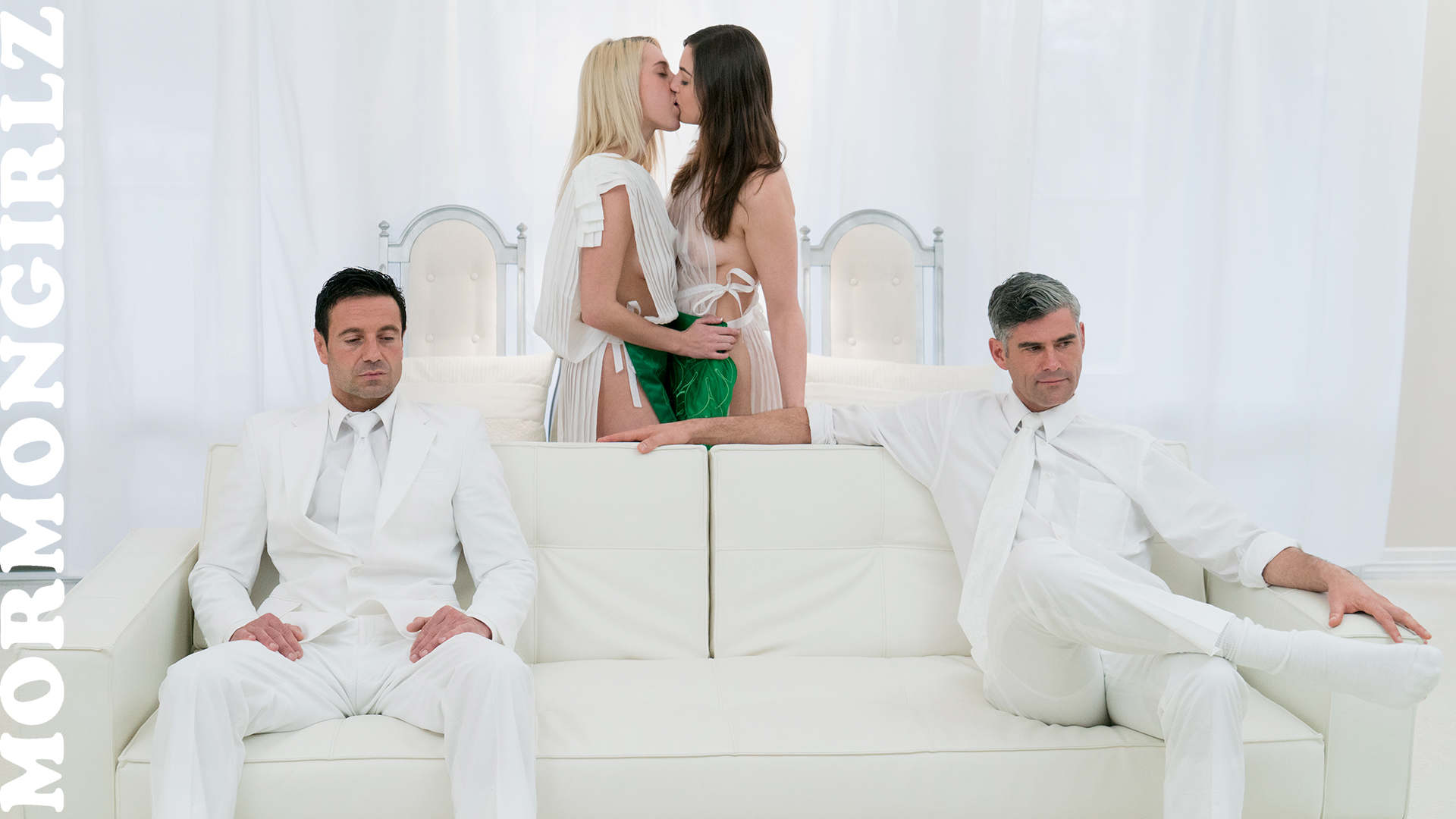 Mormon Girlz and Mormon Boyz may have launched five years apart but they both take an intriguing pornographic peek into the hidden rituals and rites of LDS Church members that have sworn secret oaths and now get to work on God's master plan of rebuilding the lost tribes of Israel via impregnation of young sister-wives ( that's Mormon Girlz) and continuing the divine directive to pump semen into the assholes and mouths of new male missionaries (that'd be Mormon Boyz, obviously). The Girlz tend to dress in robes and ceremonial garments, kneel before altars, and worship their elders, cocks pointed at the girl's face or held back almost as a threat. Semen swallowing, group sex, gangbangs, and breeding scenes take up most of the Mormon Girlz archive, although kinky dark-roomed Disciplinary Action scenes add more overt kink. The sapphic exploitation and straight (read: hetero) fucking makes a great mix and works wonderfully with the white costuming, temple-like sets, and quietly but seriously risqué situations.
Focusing on missionaries eager to please their elders, brothers, and would-be subjects of their Lord, Mormon Boyz is an all-male epic that started back in 2010 and now holds hundreds of scenes, each one exclusive and boldly original. Missionary adventures tend to end up providing the young brother a very direct way to impress his elders, taking their daddy-aged cocks with quiet acceptance and humility. Temple-set scenes bring stylistic flourishes found on Mormon Girlz to the Boyz and see plenty of tag-teaming, spit-roasting, and multi-load swallows. Dressed in plain dark suits, white shirts, neckties, and wearing ID badges bearing their names and rank, the Boyz are a welcome sight both before and after their raunchy inductions and rites have passed.
This reviewer hasn't come across many complaints about Mormon Girlz or Mormon Boyz, and certainly nothing like the LDS Church's response to Trey Parker and Matt Stone's Broadway supersmash musical The Book of Mormon. But, hey, when Stephen Fry gets investigated for blasphemy for calling God "capricious, mean-minded, stupid" on Irish television, you never know when the religious zealots will attempt to shut down an undeniably inflammatory porn site. It's always the true originals that run the steepest risks, taking religious and secular freedoms in hand and demonstrating their necessity by shooting good little Mormon Boyz and Girlz very nearly drowning in the saintly seed of their elders. Bless your hearts, brothers and sisters. I'll be praying for your continued success and the long, long lives of Mormon Boyz and Mormon Girlz.