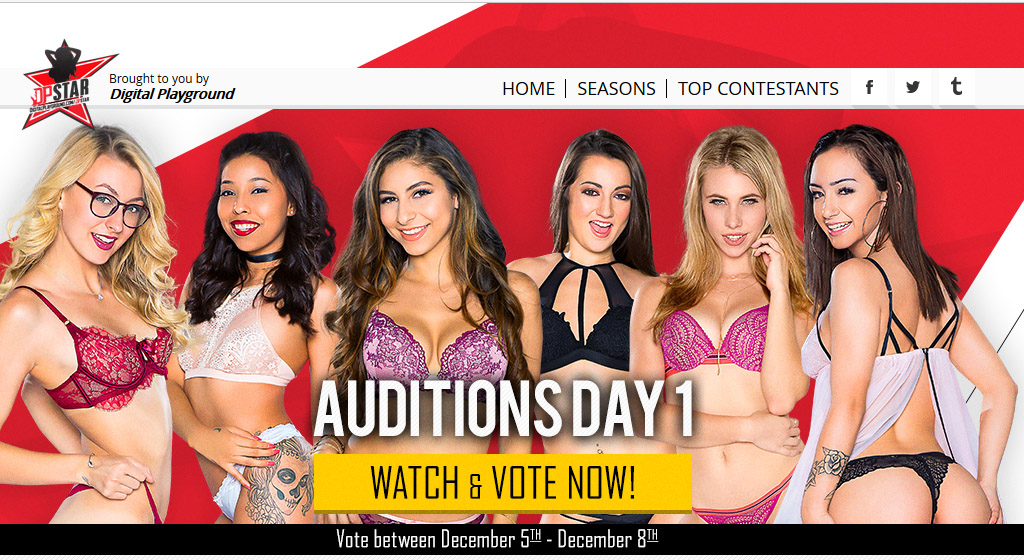 Digital Playground, home of high-concept science fiction porn, big-budget location shoots, and exclusive contract performers is once again on the hunt for today's hottest young wannabe porno superstar. Launching season three of its popular X-Factor/Voice/Idol-style talent contest this past Saturday, Digital Playground once again pits 31 of the most promising young porn starlets against each other in a battle of sexual skills, camera sense, and screen presence that just may determine the rest of their careers. At the very least, the winner will be welcomed into the fold as an invited Digital Playground performer given her own top-billed starring role in a forthcoming DP epic. With Round 1 now over and the voting public flooding the tally room with endorsements of their preferred whore, I thought it'd make sense to point to a few under sung starlets in the running this year, women you might neglect to investigate, their success falling under many viewer's radars.
Jenna Foxx is one of only two black girls in the running this year, the other being AVN nominated Ana Foxxx, but she's likely to set herself even further apart from her competitors thanks to her curvaceous all-natural physique and understated but sincere enthusiasm for dick.
Jasmine Summers is definitely a newbie, having shot only a few thrilling scenes for various mainstream studios and networks. Here at DP Star she's up against women with ten time her experience, more voluptuous bodies, and more well known names, but her wide smile and lithe frame have already proven ripe for steamy sex.
Longtime Mr. Pink's readers will know how enthusiastically we've endorsed Britney Amber, Luna Star, and Valentina Nappi in past posts, so, though it'll begging tough, I'm not going to cover those incendiary performers here and instead keep focusing on lesser known models. Blair Williams and Lena Paul are a pair of ample-chested wide-shoulder sandy blondes whose eye contact and sensual movements have already earned them a legion of super fans, as has Anya Olsen's skinny-and-slutty physical presence, Cassidy Klein's deep bedroom eyes and fondness for anal, and Nina North's incredible exotic style and slavish cock worshipping habits.
Judged by industry veterans Kieran Lee and Nikki Benz and hosted by last year's DP Star winner, Aria Alexander, DP Star Season Three is scheduled to wrap up in February or March of next year, giving you ample time to check out the competitors, find a favorite, and start voting your fingers raw to keep her popularity soaring. The more popular she proves, the closer we come to seeing her rip it up for Digital Playground in a feature headline role in 2017, so let's get to it, super fans!