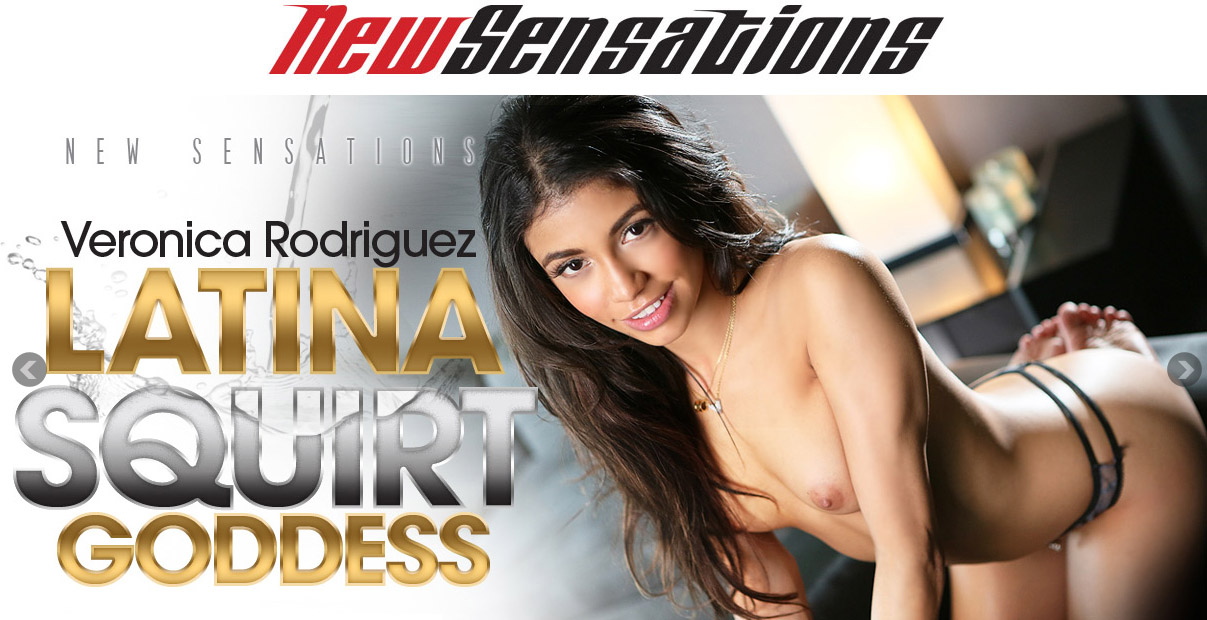 Many religions have for centuries regarded floods as difficult but ultimately positive omens of impending regeneration, change, and progress. Some have also viewed a flood or inundation as the lure of sin and temptation. In both senses, New Sensations' latest star showcase is a flood, no question. Perhaps gearing up for a new phase of her career or simply enjoying the chance to carry her own feature, Veronica Rodriguez, everyone's favorite Venezuelan spinner, rises above those pornstars who've just toyed with female ejaculation and proves herself a master squirter with few real challengers.
Under the direction of William H., Veronica throws her 95-lb frame into Veronica Rodriguez: Squirt Goddess, four fluid-filled scenes with some of the industry's hottest women and men. And, in an added bonus, every other woman featured is a squirter, too! Released earlier this month to retail and now completely available online at New Sensations, Squirt Goddess offers fans more ejaculating pussies than most studios get to in a year. To start, in black leatherette thigh-high sock-type pantyhose, Adriana Chechik throws herself at the glammed-up Veronica in anticipation reigning AVN Male Performer of the Year Mick Blue's arrival. After gushing over each others bodies, drinking up each others juices, and sharing all fluids freely, the moist, shining pair help themselves to Blue's legendary talent. For once Chechik's rear passage remains unfilled to not upstage the titular star – someone whose famously teased anal debut ("forthcoming" to her VeronicaRodriguez.com website) has not yet materialized – but the scene is no less intense without anal.
The juice bar remains open and productive-as-fuck when Japanese omnisexual deviant Marica Hase stops by to dive between Veronica's thighs. New Sensations' copywriters claim the gals "flood the room," and I'm not about to challenge that assertion. (They may have been on set, after all, and have the stains to prove it!) A double-ended dildo is put to great use when the ladies' flooded mouths and drenched bodies need a change of pace, but it's an indulgent squirt-guzzling extravaganza here, for the most part.
Ramon Nomar is next to stop by and keep Veronica smiling, but she already looks pretty thrilled with her outfit: a jeweled ensemble consisting of head-dress, large necklace, and whatever you call those necklace-like items tied around the waist to attract the eye crotch-wards. As Ramon himself put it, "She vigorously rubbed her pussy igniting her waterworks and choked on my cock before I could dip my stick balls [sic] deep. Every few minutes of fucking had her pouring out until I emptied all my juice down her throat." (You know, for a fairly recent immigrant to the USA, Mr. Nomar sure has a unique facility with the written English language!)
Now, personally, deciding between Veronica Rodriguez and Samantha Rone wouldn't be hard at all, though I'm sure many of you would have great difficulty. The esteemed Ms. Rodriguez might have an eternally youthful appearance but she also has at least 12 months of experience on Rone. Maybe her blonde junior can learn a thing or two. About what, I don't know, as it's clear Rone's squirting skills are already well developed. Anthony Rosano, the lucky bastard, thrusts himself into the twin torrents of juice and switches out the blonde for the Latina and vice versa. The other girl meanwhile keeps herself busy with frenetic masturbation and, yes, even more squirting.
Anal has been teased for months, if not years, by Veronica Rodriguez and her digital crew and, while most fans will undoubtedly be clamoring for that milestone to arrive, ignoring the utter liquid insanity that is Veronica Rodriguez: Squirt Goddess is to do yourself a great disservice. Just don't forget to bring a plastic poncho.
.@LilveronicaR talks about 1st time she squirt! See full Q&A: https://t.co/9qoKPQSiiq#LatinaSquirtGoddess OutNow! pic.twitter.com/LBEnsbvPKv

— New Sensations (@NSDSxxx) June 7, 2016