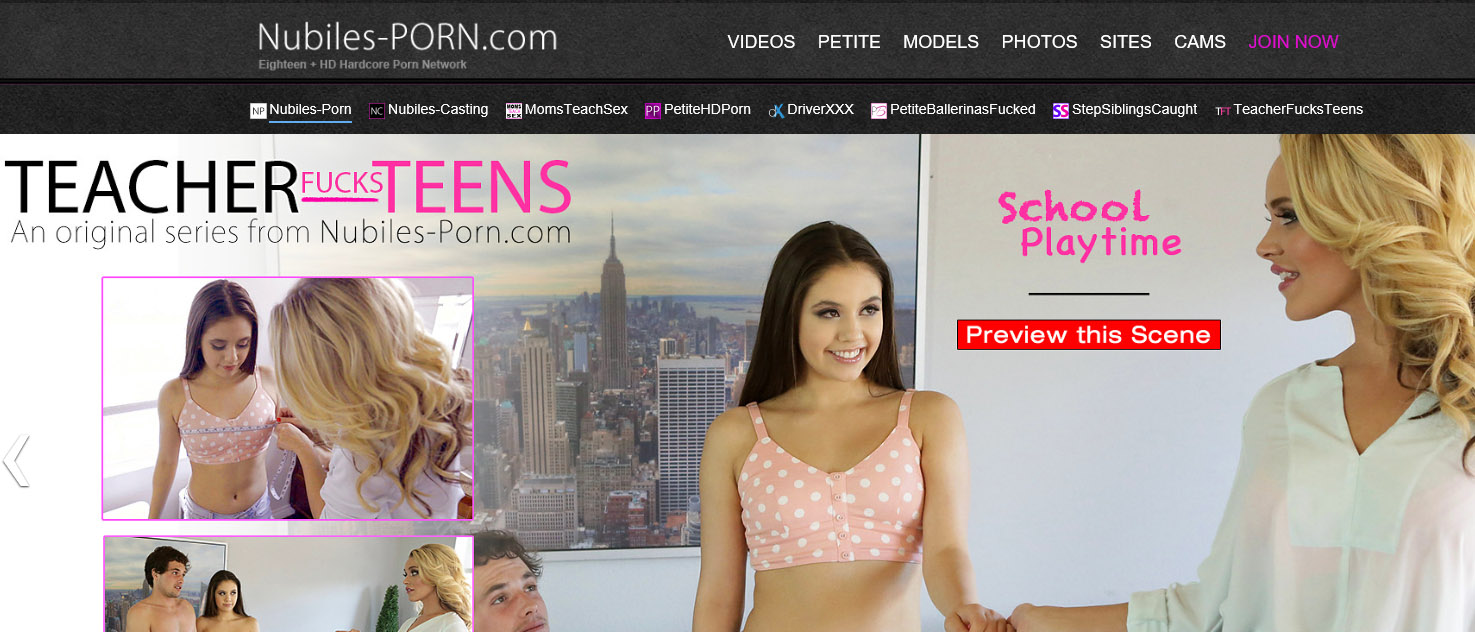 Black Friday rolls around every year and shoppers fly into competitive rages, embark on mad purchasing sprees, and end up spending what I assume is a small fortune on remarkably little. The hottest retail discounts apply to physical items whether sold in stores or online. Just about everything worth owning is discounted post-11:59pm Thanksgiving Day. Some intangible purchases can deliver a kind of pleasure and satisfaction heretofore left out of Black Friday frivolities. This year, we've scoured the 'net for a truly exceptional holiday bargain that'll baste your turkey, slice your ham, and glaze your lil' fella all in one fell swoop. This Black Friday, fuck the lines and fuck your co-shoppers. Instead of going out and wasting all day fighting over price-slashed appliances, why not stay home with Nubiles Porn.
Discounted to an incredible $14.98 and recurring month after month at the very same price, Nubiles Porn is a network much loved by Mr. Pink's staff that delivers a near-perfect blend of teenage super-sluttery, romantic erotica, step-incest, and experimental porn sites. Teacher Fucks Teens, Step Siblings Caught, and Moms Teach Sex all bring ample heat in duo, trio, and quartet scenes loaded with in-character dirty talking and dominant teen-training. DriverXXX and Petite Ballerinas Fucked are two oddities that see rideshare drivers and leotard-clad dancers fucked for pleasure or payment. Nubiles Casting introduces new talents then screen-tests them in, like all Nubiles sites, awesome HD videos. Petite HD Porn brings a great mix of hardcore concepts and hookups starring limber teen and twenty-something babes to the network. The pinnacle of Nubiles's achievement, however, is Nubiles.net, the longest running and largest of the sites with more than 5000 videos ranging from hardcore teenage couplings to the most delicate of masturbation scenes.
THE MATH:
At $14.98-a-month, the more-than-substantial Nubiles Porn network archive holds 8,637 individual scenes. While that might not seem like all that large an archive when held against mega-networks of 20,000-scenes-plus, the consistent high quality of Nubiles work, especially recently, makes it very worthwhile at approximately 0.17¢-a-scene. On a per-site basis, each of Nubiles's nine weighs in at approximately $1.66-a-month. At that rate, you'd really have to have a profound distaste for the fresh-faced, physically exceptional, sexually adventurous women of Nubiles Porn and the exclusive, original websites on which they're featured to skip this one by.