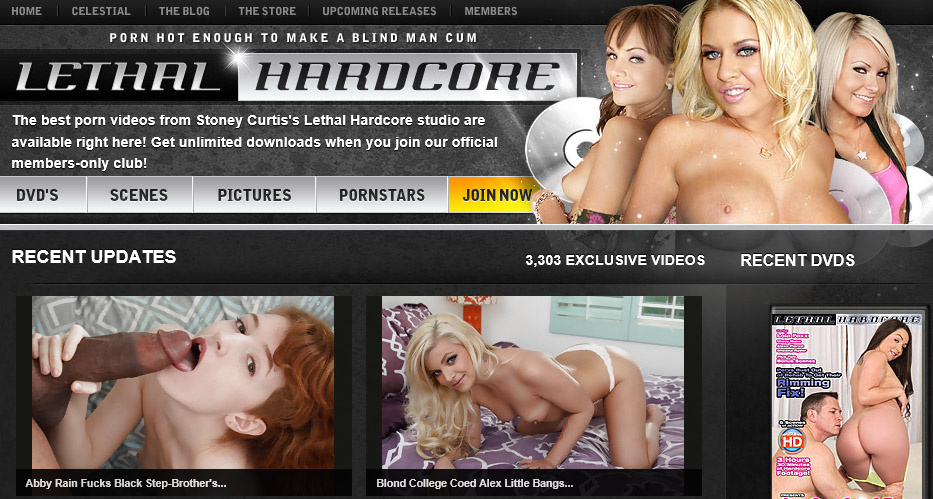 Sitting at home (or "on the throne" during an unscheduled work break) and watching your favorite adult performers get their rocks off while you pretend to be somewhere more exciting and arousing than your usual beat-off spot is fun, sure, but it could be a whole lot better. If only you were able to morph into a blowfly and buzz into, say, Evil Angel's or Lethal Hardcore's studios for a day, content to watch porn's most adventurous women perform in the flesh. Sure, you couldn't touch them (entomophilia doesn't really have a place in mainstream porn) but just being in the same room as these incredible women as they work their sexual magic should be enough to make any porn fan go gaga at the chance. And now, thanks to Lethal Hardcore's Stoney Curtis, you'll have that chance this April!
Having longed for a way to bring the fans to the shoot, Curtis came up with a post-apocalyptic future in which to set a story that he calls "The Hunger Games meets The Matrix." Giving AVN a synopsis of his upcoming epic, Curtis let the pitch flow: "America has been in a civil war; we've overthrown our own government due to the gap between the rich and the poor, which has wiped out the middle class. … Basically, the country has been split into 3,000 separate territories." Exposure to radiation has left the majority of men infertile and the human race appears doomed until a scientist brings news of a remedy involving the seed of the few remaining fertile men. With the price of sperm rocketing to millions-per-load, the setup allows Curtis to explore what might happen if something would come along to reverse our sexual roles and induce women to "drag us someplace and fuck the shit out of us." (That's where Anikka Albrite, Riley Reid, Maddy O'Reilly, Brooklyn Chase, and Layla Price come in!)
To grab your spot on the sidelines and see this sci-fi fuck-fest unfold live before your very eyes – like The Hunger Games, there's an audience for the (sexual) mayhem unleashed on the field and in the arena – simply join the Lethal Hardcore Fan Club, pick your 15-DVD porn pack and request your free ticket to the LA filming of the company's upcoming mega-feature. Now, this offer won't suit those porn viewers unable to swing a few hundred bucks on porn, but if your finances are in order you could buy yourself a front row seat to watch Riley, Anikka, and the others work their magic. Don't want your face to appear onscreen? There'll be masks available. Want to bring your lady? That'll cost you an extra hundred. Don't want to miss out on a chance to make every porn lover's dream a reality? Go talk to Stoney Curtis of Lethal Hardcore – he's making dreams come true!