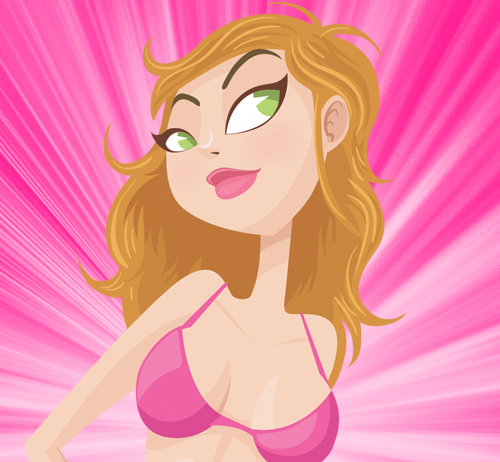 Dear Missy Pink;
I'm a 30 year old male, dating a woman 27 years old. We've been seeing one another for nearly a year, things are serious between us, but not to "that" point of either of us discussing a commitment yet. She is a great lady, funny, independent, intelligent, kind, and…..still a virgin. She apparently promised herself when a teenager that she wouldn't have intercourse until she gets married. I respect her discretion, but at the same time, I am trying hard to be faithful, however, the cold showers and late night masturbation sessions are getting a bit tiresome. I don't want to break up with her, but I do want to be in her!
Choosey With Her Cherry
Dear Choosey;
First of all, I want to give kudos to your female friend for sticking to her morals and self induced promises. Even in your swollen testicle state of mind, I'm sure you respect her for keeping herself pure, and you realize this wasn't an easy choice for her to make and I'm sure very difficult to stick to.
The fact you've hung in there for this long tells me you do indeed care about her as a person, and I'm sure she is very appreciative of that fact as well. Saying this tongue in cheek of course, many men prefer to marry a virgin, there's less criticism involved. *Smile*
Being a woman myself, I can understand the thought process, after all, your virginity is something that can only be given once, and there are a million stories in the naked city of females that regret the way their "first time" played out, and your girlfriend doesn't want to make that a million and one stories.
You didn't say how far things have gone between the two of you, but, allow me to interject this thought. Don't push her, she's made up her mind and kept her legs crossed for a reason. You've offered nice adjectives to describe her, telling me you've seen her qualities other than the sexual ones and that has kept you rounding the bases for nearly a year before having all your balls in a scoring position. You can be intimate without intercourse, and for a woman, it's the foreplay and the romance that makes the act special. Don't go into it with the hopes that you'll bring those embers into a full-fledge inferno, to a point where she won't turn back, she'll just regret the act and hold it against you in the end.
Let her know you respect her wishes, and also let her know you're very physically attracted to her, and you're in no rush to plunge through her hymen for the sake of putting a notch in your head-board. You can each achieve orgasm without penetration, through mutual masturbation, and oral sex, keeping her cherry intact and also the box it came in. Be close, be satisfying, but, also be the man you seem to be, patient and understanding. Who knows, maybe you will walk down the aisle, and when it's time for the honeymoon, you'll know you're going where no man has gone before. Build your friendship, the strongest foundation, and let the budding happen in areas besides just within your blue jeans. Treat her like a lady, even the most proper ones will enjoy the wetness you can create by a soft touch or the right oral approach to those delicate pink folds.
Enjoy our sex advice section at Mr. Pink's Blog? Have a question? Want to be featured in our next blog post? Email Missy Pink's Sex Advice or post your thoughts on our Disqus feature below.