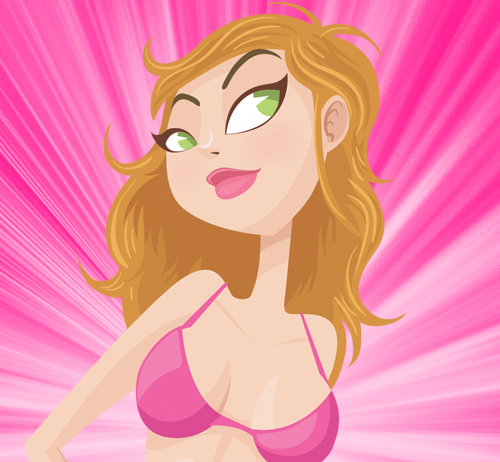 Missy Pink,
I'm embarrassed to ask about this but I don't want to talk about it to anyone I know. I'm 27 years old, my Dad got remarried about a year ago, to a woman more his age, 51, and much older than me. But that doesn't stop me from fantasizing about her. I've never thought of a mature woman before, but there's something about her that drives me crazy. I think she has thoughts too, a few times she's brushed her boobs against me and even played footsy under the table, which makes me have to masturbate to get rid of the hard-on she causes. Am I a terrible guy or just a bad boy?
– Cougar Hunter
Dear Cougar Hunter;
Well, I can honestly say, you're not the first male to be attracted to, an older women, we cougars do know how to flirt in a way that will make your blue jeans suddenly feel quite stiff in the front.  Normally it happens during high school, when the hormones are raging and you're carrying your books from class to class in front of you to hide the erection you're sporting and can't get to go down. A buddy's hot Mom, or a certain teacher that looks delicious with her glasses perched on her nose, a deep cleavage showing from the front of her blouse, and of course those long legs that are crossed when she sits on the front of her desk to make a point, yes, normally at that age of budding puberty, a stiff wind will cause the same reaction for you.
Now, it seems to me, with you being a bit older, that doesn't rule out the fact that a MILF can always bring fantasy and desire, but, you're certainly old enough to not want to play in your Dad's sandbox. If your step-Mom is flirting with you as well, shame on her. She's taking advantage of your presumed stamina and stiffness, not to mention feeding her own ego as an older woman that can still cause a younger man to jack-off with thoughts of her on his mind.
There are certain, unspoken rules in life that offer imaginary boundary lines not to be crossed, and having wild, unbridled, hardcore sex with your Dad's wife would certainly be on the list. I'm sure in your mind she is so hot and stimulating, that when all the blood rushes from your brain to your testicles, the moral aspect is lost somewhere between those two areas, but, for just one moment, once you've managed to bring yourself to an orgasm, think about what it would be like afterwards. Would you feel guilt? Would she? Would you want to do it again or would you feel so badly over the adultery aspect that it would put a strain on the family dynamics? Let's face it, the next backyard cookout could be a bit uncomfortable, would you be passing the potato salad or making a pass at your step-Mom?
If you're truly that turned on by the fact it's an older women, there are plenty others in the world, you're eyes have been opened, now all you have to do is look. There's nothing wrong with desiring the mature and sexy creature that you know will have the erotic experience to make you feel as you have never felt before, and, at the same time, you're proving to her that she doesn't belong in the kitchen baking cookies, but rather draped across your bed, ready for you to bring the youthful pleasure one more time. But, something tells me, it's the taboo side of the fact this is your Dad's wife, it makes her off limits, it makes it so hot and naughty, the act of sneaking, the wild heat that courses through your veins at the possibility of getting caught, all of those fetish filled feelings that make you want her even more. If that's the case, then allow your mind to catch up to the age of your body…. grow up, don't ruin the relationship between you and your Father.
If she's coming on to you as well, then I'd say Dad already has problems he's not aware of yet, and, if you don't act upon her offers, then someone else probably will, and she'll keep looking, but if it comes out that she's not as faithful as he thought, don't compound his pain by knowing his own son betrayed him as well as his wife.  He gave her a ring, but he gave you life.