Anyone who's ever been on the set of any reasonably sized film production, porno or otherwise, knows that theft is rampant: theft of credit, theft of ideas, theft in the form of grossly overpaid players, theft of costume items and props. On the set of Michael Bay's bodybuilding crime hit, Pain and Gain, however, something rather unusual items failed to make it back to the prop truck after shooting: sex toys.
Talking to The Daily Beast, Bay revealed that after he spent $75,000 on a treasure trove of the sex toy industry's greatest creations, someone or someones managed to take off with a good chunk of them. A confounded Bay explains as best he can:
"We bought $75,000 worth of sex toys to stock the sex-toy warehouse. I could have filmed the crew coming in that day because they'd stop and see these things—anatomically correct vajayjays and this butt (everyone would touch the butt because it felt real)—and it was hysterical. We were going to return all the sex toys to get three-quarters of our money back, but they started disappearing. We were like, "Who is taking the sex toys?"
One cast member not likely to be the culprit is Rebel Wilson, seen below wielding her own artificial bedroom spicer-upper, a pair of nunchaku, that she pulled out when Bay requested the sex scene they were shooting needed to be sexier. Clearly this a woman with a strong arsenal all her own.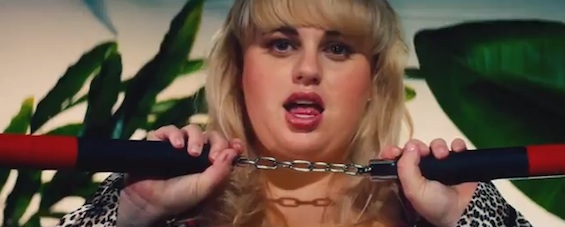 Personally, I'm putting my money on Peter "Where is Pancakes House?" Stormare.