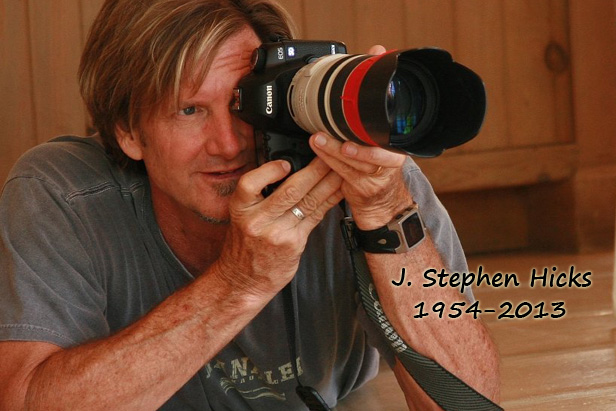 Last week we brought you news of the unfortunate passing of a true original of erotica, J. Stephen Hicks, founder and chief photographer of Digital Desire. After outpourings of love from Hicks' colleagues and competitors, details of a celebration of the man's life and work have been released. At Sunset Restaurant near Hicks' home in Malibu, friends and loved ones of the departed will gather to share in his memory.
In tribute to her late husband, Hicks' wife Lani vows to keep Digital Desire in operation and trusts Mark Lit and Charles Lightfoot, two proteges of Hicks, to carry on his incomparable work. In praising Hicks' work and character, his chief competitor and fellow erotic artist, Holly Randall, detailed their occasional clashes over model bookings, magazine spreads, and customers, and noted that she "secretly cursed his talent". In a surprisingly warm tribute to her main professional rival, Randall calls Hicks "a master at harnessing natural light… and of his craft."
Hicks' family released an obituary (excerpted below) which can be read in full at AVN.
Stephen had a restless soul and an ever-growing curiosity about the world. From Bhutan to Africa, South America to Asia, Europe to Mexico, he sought new cultures, new experiences, new canvases for his unequaled nature photography. His passing has left an immeasurable void in those who loved him. But all our lives are richer and more complete for having been touched by his life and love.
Friends and loved ones will gather at Sunset Restaurant in Malibu, California at 4pm on Saturday February 23 to celebrate the life of J. Stephen Hicks. Donations can be made in Hicks' honor, and in lieu of flowers, to The John Wayne Cancer Foundation, Heal the Bay, and the Surfrider Foundation.