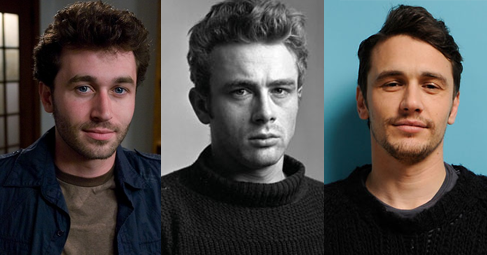 When James Dean took the starring role in the now iconic 1995 film Rebel Without a Cause, nobody had any idea that he wouldn't live to see the films premiere, dying in a car accident one month before its October 27 release date. The public would embrace his character, Jim Stark, as emblematic of the fifties' trouble youth culture stripped of its innocence in the years after World War II. Dean would go on to solidify his status as an immortal heartthrob, even amidst rumors of his bisexuality and affairs with both costar Natalie Wood and director Nicholas Ray (who also allegedly had a tryst with Wood). Now, thanks to renaissance man James Franco, the behind-the-scenes romps that rocked the Rebel set are being presented in very, very explicit detail.
No, a '55 Natalie Wood and James Dean-starring sex tape hasn't surfaced; Franco has just turned to his friends in the porn industry to recreate an imagined encounter between the two Hollywood legends. Presumably cast not just for his name, but also for his sensitive heartthrob status in the adult industry, James Deen finally had a chance to play his namesake in a hardcore flick. Heather Vahn, a vastly underrated performer, plays Natalie Wood and the two get it on in thoroughly hardcore fashion, bringing the backstage tryst to life.
What's the point? Is this another Axel Braun-directed porn parody? Nope, it's another of Franco's art exhibitions, though this time he is ably assisted by Douglas Gordon, Harmony Korine, Paul McCarthy, Terry Richardson, Ed Ruscha, and Aaron Young, who all contribute artistic odes to the era-defining American film.
Those interested can head on over to LA's MOCA and see the works in person. The exhibition, simply titled 'Rebel', runs until June 23rd and will be followed by a book release of the same title.