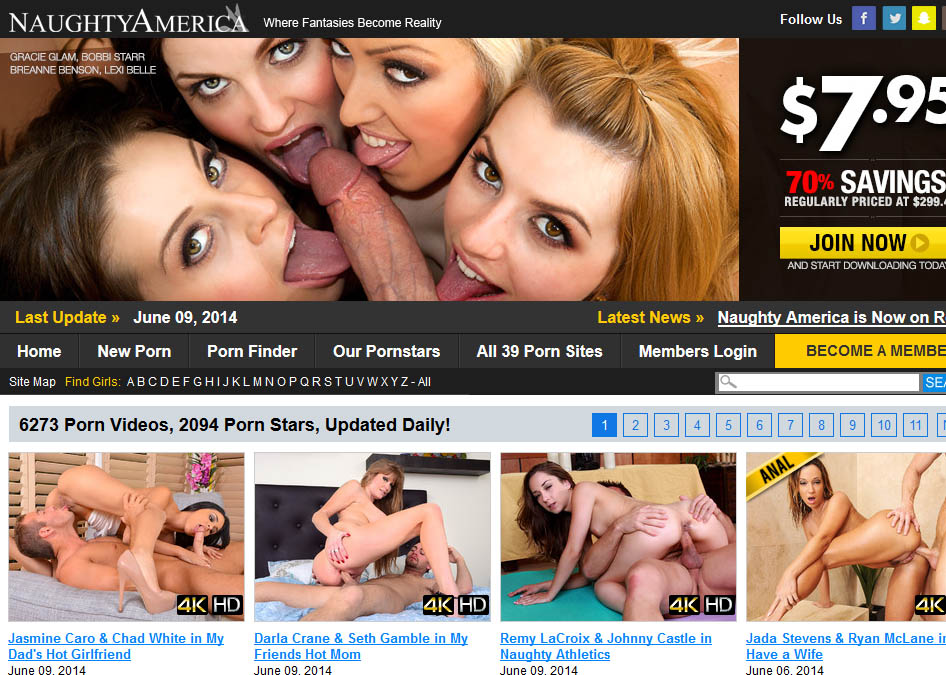 Naughty America, the nation's most patriotic online pornography network, has been filling the homes, phones, and workplace computers of Americans with hardcore sexuality since 2004. Now, however, it has its sights set on your living room – and not via your DVD player, either. Roku, the streaming video player that brings HTTP Live Streaming to your living room television, hasn't exactly been overflowing with decent adult entertainment options since its launch back in 2008. A few big shots like Videobox, FyreTV, and Reality Kings took to Roku to expand the reach of their services, but most adult entities for some odd reason stayed away. Naughty America's recent revelation of a dedicated NA Roku channel, then, was like a biblical decree from a mountaintop: "Thou shalt watcheth pornographs in the comfort of thine own living room or home theater!"
Naughty America's Roku channel doesn't carry over all the features that have made Naughty America such a perpetual favorite amongst smut fans – noticeably absent is a good chunk of the complete video collection and the recently unveiled 4K High Definition video format – but there's certainly a strong selection of material already online, with more coming every day. Naughty America's Roku app currently offers existing members TV access to their Favorites, as well as Latest Scenes and Featured Scenes, and the work of Featured Pornstars featured on the legendary network. Roku users can also examine the contents of 33 Naughty America sites and view their selections in both 720p and 1080p resolutions. Best of all, there's no delay between an update going live on the website and it being added to NA's Roku selections.
Ok, Bang Bros, Brazzers, Porn Pros, Team Skeet and any other adult network wanting to remain relevant in this, the 21st Century… now it's your turn to attempt a take over of the living rooms of America.