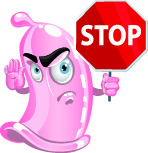 In the upcoming June elections, Los Angelenos will be asked to vote on whether or not to pass a new measure that would force porn producers to agree to wear condoms in all adult shoots in the Los Angeles area. Failing to do so would give governing body FilmLA cause to deny shooting permits and could potentially cripple the now thriving adult entertainment industry. Initiated by For Adult Industry Responsibility (FAIR), a front group for AIDS Healthcare Foundation (AHF), the measure has obtained almost double the 35,000 signatures required to place a measure on the ballot. The superficial elements of the condom issue aside, the details of the proposed ordinance, called "City of Los Angeles Safer Sex in The Adult Industry Act," are largely unknown to the public. You, dude, you're the public! The porn watching public, no less, so don't you think you should know what's has the potential to go down come June 2012? Here's a breakdown of the two main issues:
– All adult producers would be required to have performers agree to wear condoms and to"maintain engineering and work practice controls…sufficient to protect employees from exposure to blood and other potentially infectious materials," in order to receive a FilmLA shooting permit for LA City productions.
– FilmLA would be required to ask a higher fee of adult productions companies in order to cover the costs of "periodic inspections," and considering how frequently and widely porn is shot in LA, that's a ton of money leaving the hands of adult producers.
Opponents of the proposed ordinance are saying it infringes on the constitutional right to freedom of speech and expression – the right of consenting adults to fuck on camera sans rubbers – and have decried it as imposing healthcare responsibilities and the policing thereof on what is essentially an administrative department. Me, well, I don't see folks fucking any way but bareback in my fantasies, so why would I accept condoms in porn? Of course, in real life everyone should be practicing safe sex, but porn ain't real life, is it?