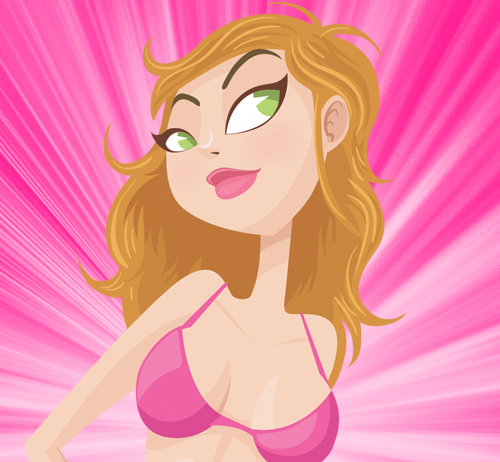 Dear Missy Pink;
I have a question that maybe a few other guys out there would like to ask. My girlfriend keeps her pussy shaved, which I get so turned on by, and I'm glad she does it. But, every time we shower together, she wants to take a razor to my balls and pubic area, telling me she wants to see me as bare, down there, as she is. I always find a way to avoid the act, usually by making love to her under the water, even though I realize, the next time will be the same thing. I really want to make her as happy as she makes me, but, the thought of shaving my privates doesn't really excite me, I'm not sure what has me avoiding it, but, I do. Should I just tell her once and for all "No," or, should I consider doing it?
Pubes On My Privates
Dear Pubes;
Being a little bit older, I remember the time when nearly everyone still had all of their hair intact, that's just the way it was. Suddenly the disposable razors were sliding across those nether regions and leaving the skin silky smooth, well, ok, maybe a few red bumps here and there for the first few times, and a new fad had been born. It amazes me how to find a woman (or man) that is still furry, is considered a fetish now.
This topic definitely bridges between genders. Think about the fact that as soon as we were old enough and had permission from our Mom to do so, we began shaving our legs and under our arms, we couldn't wait to do it, it was like a milestone into being grown up and womanly. There was something so invigorating about it, and to this day, I still enjoy rubbing lotion over my smooth legs, it's just an arousing feeling. Since we were basically raised with the belief that hair be gone was the best way to go, it was only natural to keep that razor sliding to whisk away all whiskers, including the pubic area. Speaking as a woman, there's a cleanliness that goes with it that makes us feel as if we're fresher to offer you men….your midnight snack.
If you remember performing oral sex to the full, hairy state of your partner's vagina, you'll recall having to nearly part the hair to get to the chewy center, well, it's the same for us. Men enjoy the deepthroat action when being blown, but there's something about having our face in the midst of a forest of follicles that can sometimes be disappointing to us. There's nothing worse than being totally in the mood, happy to give the blowjob, only to feel a curly hair sliding across our tongue, heading down our throat…in fact, that may be where spitting instead of swallowing began!
What may be causing you to avoid shaving are a couple of things, maybe your buddies will notice while you're in the locker room and give you a bit of buddy teasing about your bare testicles, or, could it be the thought of the itching sensation when it starts to grow back that will leave you wanting to find secluded areas to slip into for a quick scratch. Well, whatever the cause, keep in mind, that if you don't like it, it will again become your boner bush you've grown fond of, and the itching may just be a bit of a turn on through the day, after all, any sensation in that area can bring an erection for most guys. Who knows, you might just like the look and feel of it, and if that's the case, it will give you and your girlfriend another act of intimacy to share, shaving one another can be a major turn on.
So, warm up the lather, grab a new razor and by all means, make sure your hands aren't trembling!!
Enjoy our sex advice section at Mr. Pink's Blog? Have a question? Want to be featured in our next blog post? Email Missy Pink's Sex Advice or post your thoughts on our Disqus feature below.