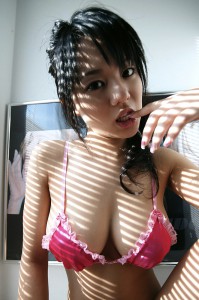 Here in the West, we've come to regard Japanese sexual entertainment as the adult equivalent of absurdist theater. Incorporating soiled panties, strange bathing rituals, rope bondage, mass collective facials, and animated depictions of inter-species tentacle sex, much Japanese porn is simply too bizarre for most Western viewers. AV Idols, however, are a different story.
Largely working in what Western audiences might identify as a "tease" genre, Japanese AV performers (called Idols) usually have short careers of only a few years in which they pose in modeling videos focusing on a single overriding character or theme. Late chronicler of Japanese sexual habits and adult commerce, Nicholas Bornoff, wrote in his 1991 book, Pink Samurai: The Pursuit and Politics of Sex in Japan, that such characters include "the prim office lady, the virgin-next-door, the randy farm girl, the leotarded aerobics enthusiast, the sexy predator in the hot-spring resort and, last but not least, the self-assertive slut who is put in her place by being gangbanged on the floor of the cutting room."
One AV idol refuses to be restrained by such stereotypes and has broadened her appeal by appearing in a Thai movie, a South Korean TV drama, and even embarking on a career in South Korea as a singer! But not only has Sola Aoi sought to expand her reach into non-erotic markets, she also seems to want to just, you know, do good. What, with tensions continuing to escalate between Japan and China over ownership of a cluster of small uninhabited islands in the East China Sea, she's really going to intervene? With what, her tits?
To be continued…