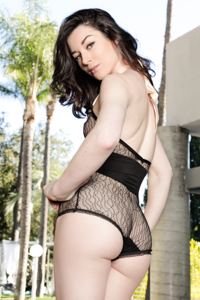 Careers in adult entertainment, on the performance side of the equation, have no set trajectory or path, especially not in these days of Instagram superstars and million-view webcam shows. One woman who entered as most performers do but elevated herself above being treated as a pussy-for-hire is the pale-skinned dark-haired sultry goddess Stoya, and now she's proving her path is unique yet again.
Launched in 2015 by Stoya and Kayden Kross, the subscription site TrenchcoatX aimed to curate and disseminate only that pornography deemed by Kross and Stoya as ethically sound and erotically powerful. Oddly never anointed AVN Female Performer of the Year yet still awarded for her onscreen turns, Stoya brought a more general audience to TrenchcoatX, an audience made not only of straight men but women and men, straight and otherwise. A recent announcement, however, has revealed that Stoya is leaving TrenchcoatX in Kross's capable hands and moving on to something else. After fucking 'Around the World in 80 Ways' and creating 'Graphic Depictions' and 'Delicious' for her TrenchcoatX audience, Stoya opens her future to a variety of possibilities.
You may have first noticed Stoya in John Stagliano's 'Voracious 2' alongside Annika Albite and former boyfriend James Deen and it was for Evil Angel that she shot her best early work. Or perhaps it was her award-winnings turns in Digital Playground's 'Babysitters 2' and 'Code of Honor' that first turned your head. But Stoya was never to be tied to one company. After two years co-heading TrenchcoatX kept her largely behind the camera, not in front of it, to the disappointment of many viewers, many are now clamoring for the next explicit sexual turn from their favorite intellectual porn maven. To start with, Stoya and Rev Mitcz are producing a porn-heavy podcast called 'Aural Spaces' on the Riffopolis network. Then there's STOYA X TEAM ROCKSTAR, a photobook published by Bad Book Ltd. Of course, Stoya is also keeping fans and followers updated via Twitter and Instagram, which we can be sure will garner plenty of attention from friends, fans, and foes in anticipation of unveiling of Stoya's latest endeavor.