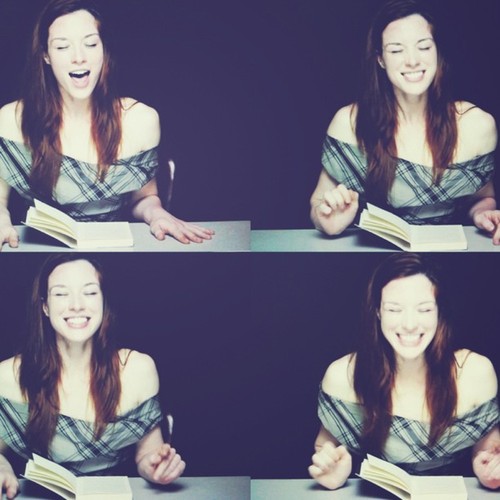 Stoya, the Digital Playground contract star and winner of 2009's AVN Award for Best New Starlet, has followed Sasha Grey's lead and taken up reading in an unusual environment. While Grey read to students and courted controversy for doing so, Stoya wisely decided to keep her bibliophilia strictly adult and, at the request of photographer Clayton Cubitt, read from Supervert's high-brow guide to posthumous hanky panky, while sitting astride a powered-up Hitachi Magic Wand. Sounds just like the kind of thing to get you back to your local library, doesn't it?
On her Tumblr, Stoya blogged about the experience and invited fans to read her musings on her first genuinely positive experience with a vibrator, which may or may not have been made enjoyable by the reading of said literature. With Cubitt requesting she dress like she was going on a date with a man, not a boy, Stoya turned up for her reading in a Vivienne Westwood dress, "sophisticated and expensive" panties, simple makeup, and very high but not impractical heels. Then she sat down at a desk with her chosen tome and began to read as the Hitachi kicked into gear. What followed, dear reader, was a mind-blowing combination of high-brow erotic literature and a mind-blowing orgasm; in short: the stuff of which dreams are made.
Note: Stoya cums pretty damn hard in this video, so you might wanna throw on some headphones before hitting play.