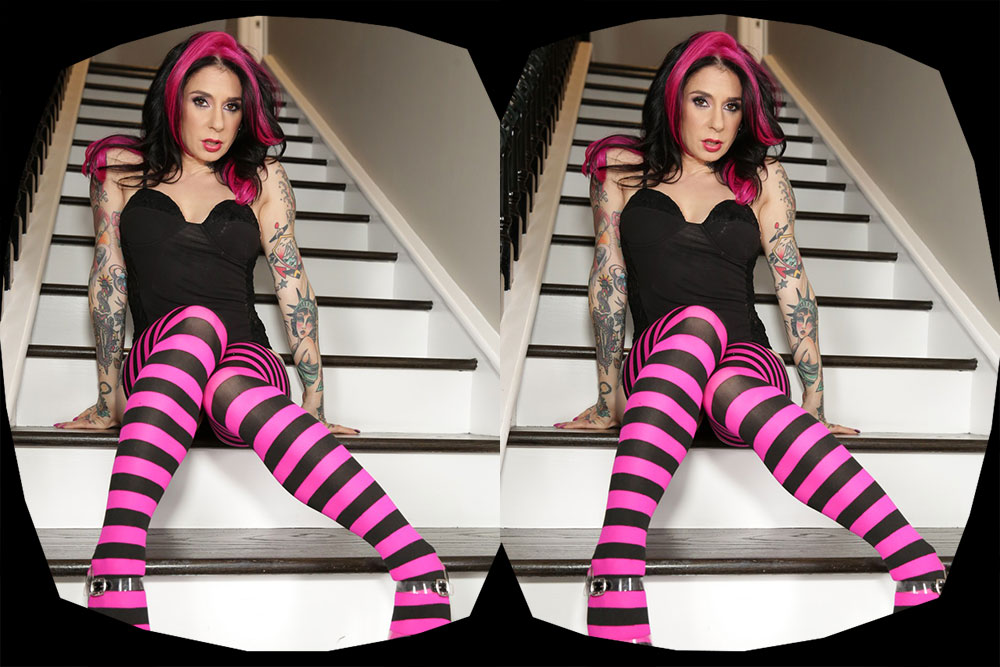 One of Mr. Pink's favorite porno powerhouses and fan-favorite tattooed anal queen, Joanna Angel has always seemed like someone you'd not only want to bump uglies with after a night on the sauce, but someone you'd invite over for a Sunday afternoon vape-n-Voltron session, too. To put it simply, Joanna Angel seems like the coolest fucking woman in porn and now you get to virtually hang with her in a much more convincing way than in one of her Burning Angel alt.porn classics.
Recruited by HoloGirlsVR to direct and star in episodes of the company's acclaimed virtual reality dates, Angel's latest advancement in techno-aided seduction brings the benefits of binarual sound, a 200° viewing stage, High Definition resolutions, and fluid, lifelike 60 fps encoding. What does that mean for the average VR viewer? That Joanna will soon be whispering into your ear, asking you to dump a load on her favorite back or ass tattoo, and throwing out some of her signature ironic dirty talk. And all of these sounds are mixed and presented as if they were happening in the very real space surrounding your very real body.
HoloFilm CEO Brian Shuster announced the deal with great enthusiasm, calling the deal "the first of a kind," and praising the Burning Angel head honcho for pushing porn into more creative arenas. Ms. Angel herself has said her HoloVR work, which includes self-starring scenes as well as episodes with Abella Danger, Katrina Jade, and Manuel Ferrara, is "a whole different medium" and a compelling platform for Burning Angel. Proving ink is never far from her mind, Angel added "The fans will love seeing our all tattoos in 3D!" Though something tells me that said tattoos wouldn't get a mention if they weren't covering the epidermis of a true porno trailblazer, an incredibly hot performer, and one of porn's most restless innovators.
Angel's first HoloGirlsVR scene is now live with others to follow.