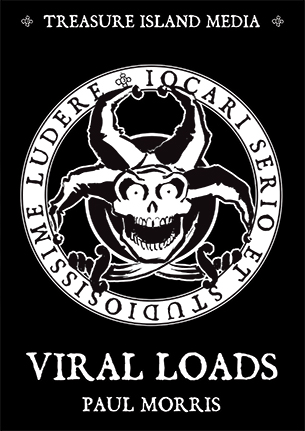 Adult entertainment depicting sex between men has long flirted with the horribly depressing state of HIV infection by writing "poz" characters into scenes to ratchet up the already steaming tension of an illicit encounter. But now gay porn studio Treasure Island Media has delved to an all-new industry-wide low with the announcement of upcoming bareback feature Viral Loads. (Settle your stomachs, folks, 'cause this one should be approached with caution.)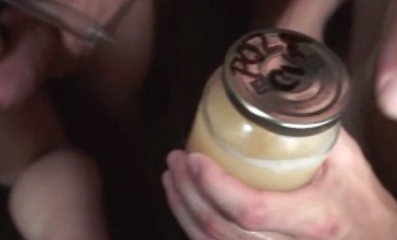 As noted on the blogs of porno pundit Mike South and Str8 Up Gay Porn, Viral Loads, which stars Derek Parker, Drew Sebastian, Blue Bailey, Dayton O'Connor and Logan Stevens, includes a scene that sees said performers among those ejaculating into a lidded, glass receptacle emblazoned with a curious label: "poz cum." Now, it must be said that not all men spunking into the jar have declared themselves HIV-positive, but most have and the scenario leaves little untarnished by the infection-focused plot (as it were). This isn't charity, though, and the jar isn't going to auction to raise awareness; it's being poured into the waiting rear passage of Blue Bailey himself, as this charming promotional gif illustrates: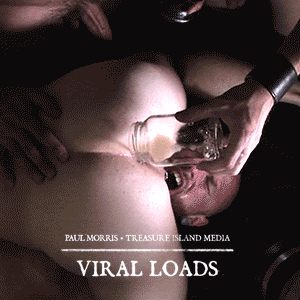 Openly HIV positive performer and Viral Loads guiding light, Blue Bailey said in an October 2013 interview, "With Treasure Island, they let us [performers] do what we want." And, according to an unattributed quote published by Str8 Up Gay Porn, it was all Blue's idea to begin with: "Blue Bailey got in touch with me the next day and said he wanted some kind of man-worship initiation. So I took a few days to set it up. When he enters the room, he knows he's in for a real rite of passage. The willing, hungry lad gets gang-fucked by a roomful of studs. Most are poz, some are neg. Who the fuck cares? Not Blue, that's for fuckin' sure."
Maybe he doesn't, but I'm sure Cal/OSHA will. Treasure Island, on the other hand, clearly cares about something: the frenetic shooting style, disorienting angles, and aggressively decomposed DVD and title design makes it very difficult to believe Treasure Island isn't doing its darndest to solidify intentional infection and transmission of HIV-carrying bodily fluids as not only entertainment, but the gay hardcore equivalent of a slasher flick.