As my work reviewing Private Feeds began to wind down and I was running out of polite but firm ways of criticizing various elements of the site's operation, it came time to say goodbye to HoneyBunny. She looked disappointed that we had never managed to cybernetically consummate our online relationship and told me as much. I admitted the same. Just before I finally left her room and the site for the night, she did me a wonderfully erotic favor by stepping back from the camera and turning to the side, showing me her delightfully curvy body in all its glory. A truly generous and courteous woman! I tipped her one last time. She blew me half-a-dozen kisses, ignoring the other two guys in the room until they shut up and acknowledged our blossoming romance. And then it was all over… or so it seemed.
Before heading off to bed – it was now nearing daybreak; I'm a night owl but this was a bit too late even for me – I sent HoneyBunny a direct message through Private Feeds' messaging system. I was half expecting to receive no reply, assuming she'd be too busy coaxing tokens out of other horny fellas. What had I been thinking, spending all my alloted review funds on one girl whom I'd be unable to take into a private session? Boy, what a sucker! Anyway, I thanked her for the pleasant conversation and promised to return and make another attempt at giving us some privacy, logged off, and soon fell asleep.
A day went by with no word. Then, just as I was settled into my usual state of self-doubt and mild depression, I received the following message…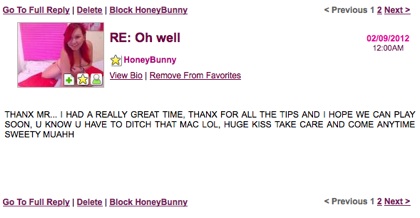 Oh, HoneyBunny, you really are one hell of a gal!