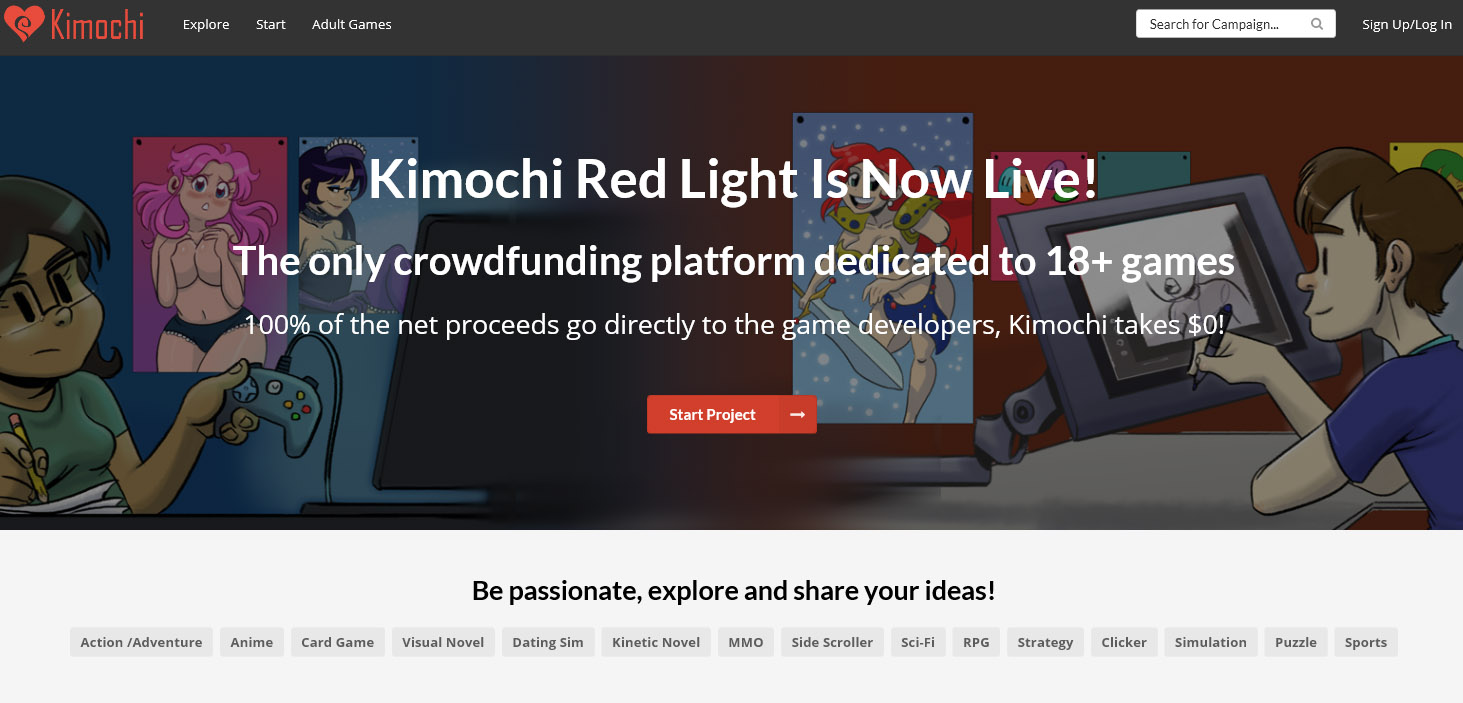 Last week Mr. Pink's brought you the lowdown on an oddity in the adult entertainment world: an online game emporium loaded with independently-owned titles created by some very promising and often quite accomplished game designers. Unlike the mainstream gaming world and its obsession with violence as primary vice, the majority of games featured at Nutaku explored lust, love, attraction, and all sorts of fetishes and taboos. Some were free. Others cost anywhere up to $60. Some were single player text-based adventures. Others were massive multiplayer online experiences designed to keep you participating and growing the world along with your virtual sexual opportunities and triumphs. "But where," I hear you ask, "does a designer get the time and funding to produce such epics of immersive adult entertainment when he's likely got bills to pay, a family to feed, and real career opportunities to explore?" That, my friends, is where crowd-funding platform Kimochi comes in.
Claiming to essentially be the unicorn of crowdfunding websites – anime! porn! a no-profit M.O. that keeps the money in game development! – Kimochi presents its Red Light program to aspiring adult gaming entrepreneurs to help them finish and launch their creations, and to bring these games to a wide international audience. Designers from France, the UK, and the USA are among those turning to Kimochi Red Light for support, and to a prospective base of gamers willing to lend a hand financially. Taking donations of all sizes and allotting Rewards for contributions of different amounts, from exclusive digital character sketches and design previews to early beta release access, in-game credits, and premium bonus content to enhance your playing experience, each design team details their plans, their progress, and aim to please those who help them reach their goals.
Anyone who found Nutaku's strong selection of produced games, ready to be played and enjoyed and obsessed over by a salivating one-handed audience of adult gamers, enticing should scope out Kimochi's various offerings. From visual novels to RPGs to dating sims to card and puzzle games, there's a burgeoning generation of sex-savvy game designers that need your help and really only one place to go, digital funds in hand, to ensure the survival and success of their games. Nice work, Kimochi! Yatta!