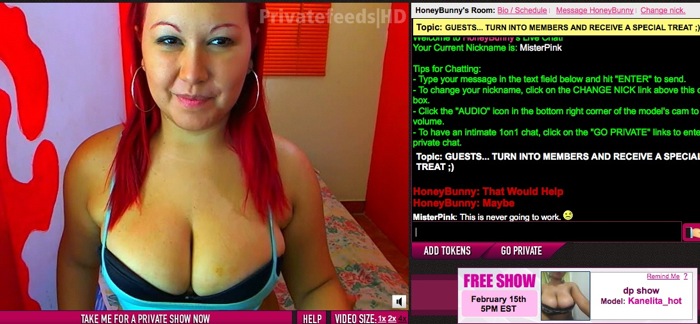 Webcam sites might thrill some people, but I've always found them more than a little frustrating. You buy yourself some token, find a camgirl that appears attractive and amiable, tip her, tip her again, and soon realize that she doesn't give a shit how many ten-spots you toss her way, she's all about the high rollers. And on most webcam sites, it takes a lot of real-life green to be that kind of guy.
When reviewing Private Feeds this week, however, my opinion changed. The site itself was nothing much to write home about; your average cam site loaded with women, men, trannies, and couples from around the world, all trying to make a buck with minimal effort and maximum skin. Of the few dozen performers that were online during the writing of the review, at least five or six caught my eye only to turn out to be basically the same as every other camgirl, just like I described above. One woman, however, proved to be something else entirely.
Private Feeds performer HoneyBunny initially attracted my attention for four reasons: her bright red hair, he sweet face, and the two most obvious physical attributes sitting right there on her chest. Upon closer inspection, she turned out to be Colombian, mute (due to a non-operational microphone), and adorable in personality as well as physicality. I entered the room and began engaging her in conversation; nobody else was, leaving me to assume I was alone in there. After asking her how she was and complimenting her on her attractiveness and relative maturity (compared to other Private Feeds performers), and after her thanking me kindly for my courtesy and manners, I decided to tip her 10 tokens. She was noticeably impressed with my "generosity" (her word, not mine) and her smile shone brightly back at me through the screen. Then another user piped up and demanded to see her "sweet litle puss bb." Her attempts to ignore him worked initially, but then he took her into a group chat, which she requested I join. At this point, I was definitely starting to fall for her, but my troubles were just beginning.
Stay tuned to Mr. Pink's blog to see how this star-crossed romance turned out. (It has a happy ending, I promise.)