As I roam around the Internet in search of excellent and outlandish porn to bring you, dear readers, I occasionally stumble on a site that appears not yet fully formed, but nonetheless arousing-as-fuck, a site about which I simply must shout from the proverbial rooftops. This week, the site in question takes the focal point of almost all hetero porn and shifts it around, flips it on its head, and makes for exciting new possibilities. This week, the site is Cum4K.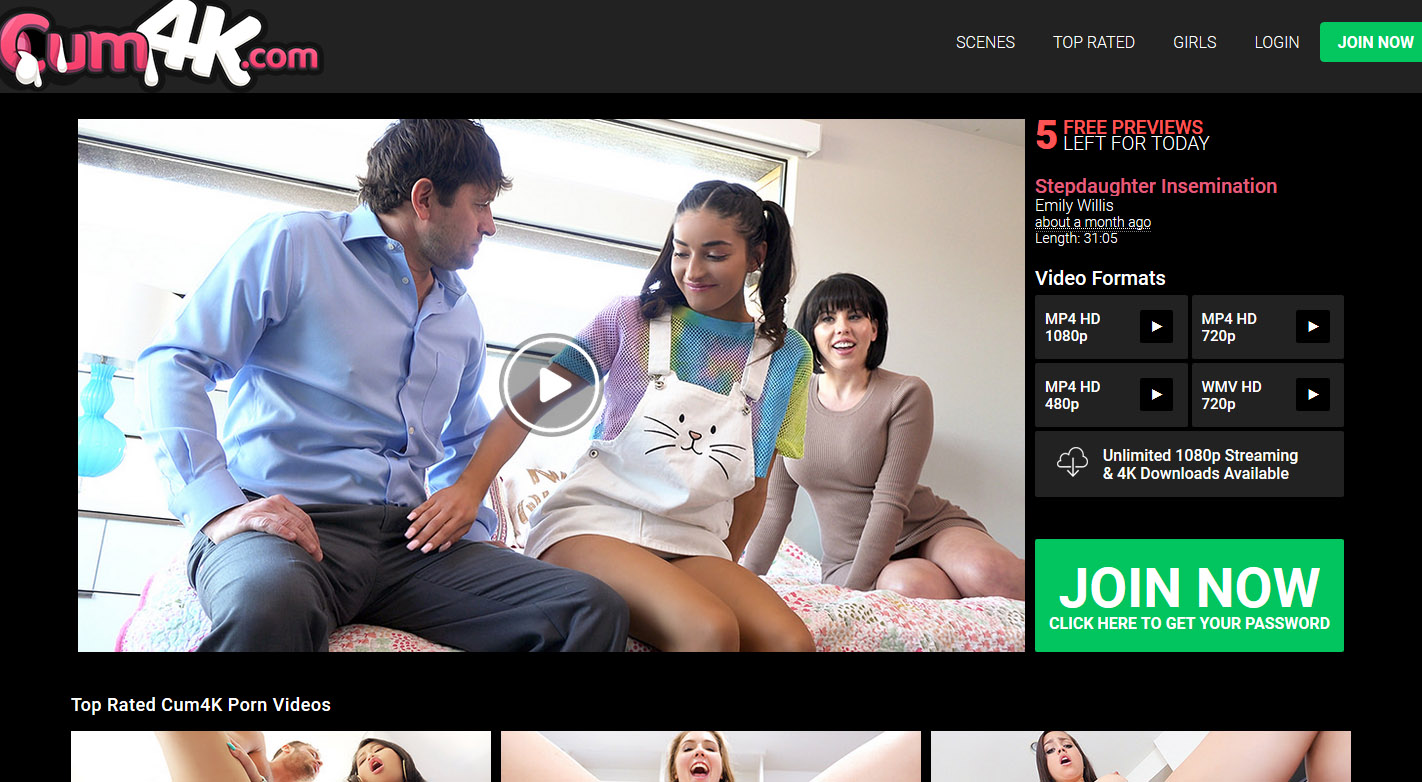 Given its name, you can expect Cum4K to feature Ultra-HD videos with a pronounced focus on "cum" – but whose cum and what exactly about it are we supposed to be watching? Cum4K pairs today's sexiest newcomers (Paige Owens, Jade Kush, Eliza Ibarra) and soon-to-be-legands (Lena Paul, Holly Hendrix) with guys that can blow multiple loads in each sexual sitting. Well, that's the claim anyway…
The numerous vaginal (and occasionally anal) creampies seen here don't announce the end of a scene like in most pornos. Instead, they aim to show just how fucking incredible each models' pussy must be by having the stuntcock "blow" multiple times. Using what looks kinda like Cetaphil lotion to simulate the spooge, this visually rich site takes its time to grab close-ups of the well-creamed cunts as the babes continue to fuck the day away. Fans of the obscure but very kinky "cum as lube" fetish will be in heaven here, while those simply after more thoroughly excellent teen- and twenty-something-fucking episodes as good as those of Passion HD, Tiny4K, and Exotic4K who don't mind a little additional natural lube thrown in mid-fuck-sesh will be thrilled to bits.
Will Cum4K end up combined with the throng of new Passion HD-related sites springing up in all kinds of odd little fetishes and niches lately or will it stand alone as a testament to that life-giving force, that carrier of human genetic data, that stainer of sheets, the other "C word" of Cum4K's title? Either way, it's going to get messy.