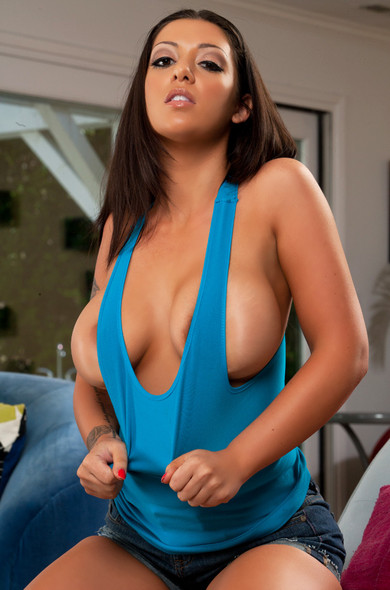 I don't mean to insult the single and lonely out there, but, man, having a girlfriend sure is great! You get to make out, fondle her boobs while she straightens her hair, and, unless you've been together for a long, long time, get laid on a regular basis. Hell, if you're lucky enough you might even have a girlfriend that enjoys blowing you almost as much as you enjoy being blown. There's really only one downside to having a girlfriend: monogamy. Monogamy is hard even in the most satisfying relationship but it certainly doesn't help when your GF has a few friends with A+ racks! Naughty America knows this all too well and has just launched a brand new site built around this very premise.
My Girlfriend's Busty Friend might not be the most succinct title for a porn site, but it sure is accurate. Fantasy is the name of the game here and you're invited to live out yours with such boob-tastic performers as Madison Ivy and Natasha Nice already taking starring roles on this fledgling Naughty America effort. The scenes themselves are fairly typical of NA's M.O. and see some lucky cocksman play the part of a guy whose girlfriend just doesn't seem to be fulfilling his needs, either because she's an outright ball-buster or she just doesn't have the norks to satisfy a dedicated tits man. The nine scenes already online at My Girlfriend's Busty Friend start out with cleavage-baring teases wrapping the guys around their perky pink nipples. It soon gets hardcore, however, in sex scenes filled with plenty of boob-fondling and titty-fucking, and usually concluding with pop-shots aimed squarely at the astounding racks of Karina White, Nicole Aniston, Melina Mason, and Jayden Jaymes; each one more blessed in the chest than the last.
As if you needed another reason to join the ranks of Naughty America members, My Girlfriend's Busty Friend puffs up its array of ample chests knowing that no matter who she is or how many times you've heard her bitch and moan to your girl about some jerk mistreating her, a great rack is a great rack and that's that.