Motley Crue's Tommy Lee dabbled in porn and so did Snoop Dogg, Ice-T, and Evan Seinfeld of hardcore legends Biohazard. Hell, Seinfeld even adopted the nom de porn 'Spyder Jonez' after marrying Tera Patrick and shooting a whole bunch of smut together. Recently putting Seinfeld's nepotistic endeavors to shame, though, has been former Saigon Kick drummer Phil Varone, who just days ago announced his decision to ditch porn for the pure unadulterated carnal thrust of rock and roll!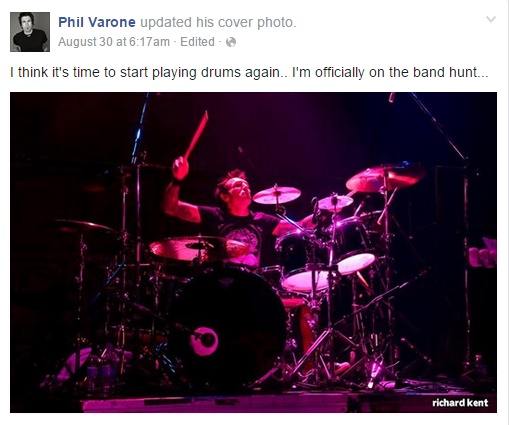 A noted lothario and admitted swinger, Varone started documenting his on-the-road exploits in an official capacity with the 2011 Vivid Video release of 'Phil Varone's Secret Sex Stash,' a "celebrity sex tape" that merely set the scene for Varone's futher ventures into the world of porn production. In 2014 Varone even managed to win an AVN Award, Best Amateur Release for '100% Real Swingers: Meet the Rileys,' just one title in a series that saw him expose the seedy partner-sharing underbelly of America as well as the secret swinging lifestyle of then porno it-girl Siri. Varone also entered the erotic novelties game with Dr. Philgood, a dildo molded from his own penis by Cal Exotics that even bares the penile piercing the drummer has slid into the snatches of groupies, swingers, amateur harlots, and pornstars like Siri but will now keep off-screen.
Varone's keeping his exact reasons for leaving porn to himself, simply telling fans that he encountered enough douchebaggery in the industry to convince him drumming for hard rock bands is more his thing. Varone's also retiring his talent agency, The V Agency, telling media "I have always offered my talent a very high level of personalized service, but returning to music and my other projects going on have made this very hard." (Check out Phil's Facebook page for more, dirtier revelations or, if you're patient, you can order the man's memoir, Un-Philtered or wait for his next, apparently being worked on as we speak.
Look, Phil, no hard feelings but if you're out of porn I'll also have to move on and find another stereotypical hard rocker through which to vicariously live my dreams of banging groupies, doing coke off of brand-new shiny hi-hats, and trying some grannies on for size (although that last part might've been a Phil Varone specialty).
So, paging Mr. Joshua Todd of Buckcherry…. Josh Todd of Buckcherry, would you please make some porno?