When you think of New Year's Eve, you undoubtedly think "party," so when the biggest boozing night of the year rolls around every December 31st, porn fans invariably hold out hope for a parade of online updates detailing just how wild a truly epic and genuinely debauched NYE party can get. This New Year didn't disappoint in that regard and, although playing a runner-up to the much more celebrated Christmas holiday, the pornosphere delivered some solid NYE encounters worth noting. And, as usual, it was one of porn's most reliably hard-partying networks that brought the holiday heat: Reality Kings.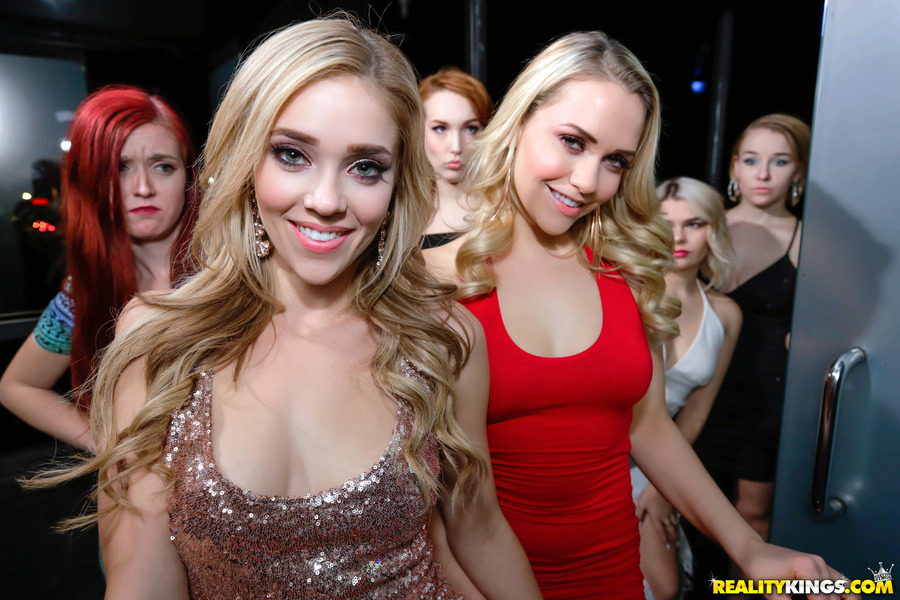 Since they see the arrival of the new year before those of us in the USA, it seems only fitting that Reality Kings started the party with another epic Euro Sex Parties update. Anya Krey steps inside her first NYE swingers bash and immediately catches the attention of Evelina Darling. When two bystanders get hard and approach the duo, they drop to their knees and make it a four-way affair to ring in 2018 in style.
After a late night of partying, Elle Monela calls her rideshare home and finds in the driver's seat a charming, attractive guy (with a POV camera attached to his head, I presume). Offering to blow him in lieu of paying her fare – a NYE out on the town gets pretty expensive! – Elle soon has her driver pounding her cunt on the backseat, her destination, her parents' house, only a few feet away. Also delivering a one-on-one encounter, RK Prime brings viewers Alinz Lopez, who arrives at a client's house ready to clean the debris from last night's NYE bash only to find he has something else he wants cleaned: his cock!
Reality Kings returned to the gang-of-girls party atmosphere with a revisiting of the now-retired In the VIP concept, albeit a modified version. Blonde newcomer Kali Rose attends her city's hottest club's infamous NYE party with her pal, everyone's favorite blonde pornstar PAWG Mia Malkova, and they begin flirting their way into free champagne and VIP access. Unable to ignore their waiter's trouser bulge, they leap on him, devouring his dick in front of their shocked, slack-jawed girlfriends, who sit back, take cell phone photos, and marvel at the slutty-as-fuck proceedings unfolding before them. (Hey, kinda like you!)
So whether your own NYE was disappointing and lonely or filled with the kind of revelry that might inspire the next end-of-year Reality Kings efforts, early-to-mid January is the perfect time to let your fantasies fly and relive the New Year's Eve you know you wish you'd had, the New Year's Eve Reality Kings has provided.