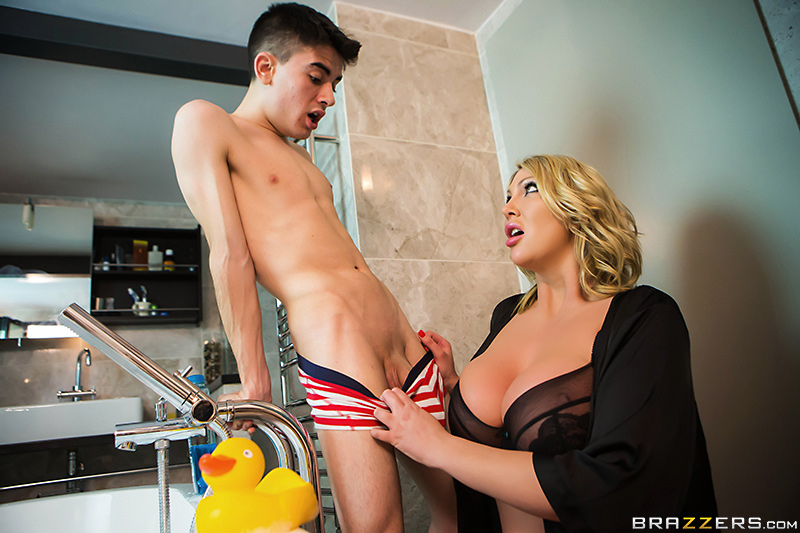 All this election-season talk of illegal immigrants stealing the jobs, money, and pussy the men of the USA believe to be rightly theirs got me thinking… You see plenty of immigrants in porn, women and men both, and it could be argued that such a profession is both a negative and a positive result of an illegal presence. (Though I'm sure Jordi's papers are in order.) Adopting an disapproving attitude, you might see someone like recent Brazzers discovery Jordi El Niño Polla, a Spaniard mentored by Nacho Vidal and brought to the US by the ZZ to plow the fields of their female stars, as a threat to American masculinity. But really that's only half of it.
Jordi, whose diminutive frame and youthful looks belie a massive member, more favorably viewed could be a pinch hitter coming in to relieve our own coliective sexual exhaustion. Or, unless it's too threatening, maybe he's a gift for our beloved female citizenry, their desires also leaning younger and more dominant every day. Whatever your stance, Jordi's seemingly here to stay, already shooting for Brazzers a selection of thirty exclusive hardcore encounters.
At times playing a teen or twenty-something boyfriend to the likes of JoJo Kiss or Alex Grey, Jordi is just as often cast alongside a mature woman whose MILFy hold over the young star is immediately apparent. After being bathed by Leigh Darby and Alexis Fawx on two separate occasions, and after pounding Diamond Jackson and Nikki Benz on the tennis court, Ryan Conner in a shower stall, tag-teaming Rebecca Moore with one of Brazzers' other resident foreigners, Keiran Lee, and crashing his bicycle after spying neighborhood cougar Veronica Avluv shooting him flirtatious glances only for them to turn into spit-moistened strokes, Jordi's next assignment sees him jumping in the shower with girlfriend Megan Rain only to be interrupted then joined by her stepmom Ava Addams.
Clearly Jordi's arrival on our shores is all part of Brazzers' bold attempt at claiming new female viewers and grabbing guys before they hit twenty-five, making them fans for life. Jordi, a stunned expression on his face as his hefty dick disappear into another American throat, is a surrogate for all of us who, no matter what we tell ourselves mid-viewing or mid-fap, would probably pass out if ever faced with real pornstar pussy. He's just a surrogate that's doing a better job than many millions of local boys. Is this where globalization is leading us, into one another's countries to fuck foreign women for our pleasure and theirs? If so, that's an economic model I'm sure we can all get behind.