There's a new adult webcomic site in town. Nineteen year self-publishing veteran of indie comics, Adam Talley (Pleasant Life, Anna Pocalypse, Star Wars/Marvel/DC Sketch Card Artist) has launched his new adults only webcomic through his site at http://www.idiothead.com! The site itself has two main web strips. One is a superhero erotica strip called STARSLAM, the other is a comedic short strip collection called PORN WORLD WEEKLY. The site also features short story written erotica by Adam himself along with art gallery. You can also purchase original art from the strips and commissions to help support the work.
And best part of all: IT'S FREE!
"We live in a day and age where people can get what they want and how they want it. We also are struggling with how we want to make people pay for the work. I say we should strive for a different approach because of this change. We should be asking how can we LET them pay for it! The only way I know is to offer it initially for free, but to then offer more content and original artwork to own a "piece" of the history of the project," says Adam from his office in Central Michigan.
Yes, the site is free. However readers have the option of either waiting til every Monday when a new Starslam strip is put up or to pre-buy the content in a digital form for a measly $2. "For $2 you get a downloadable PDF of the chapter that you can read in your computer, or mobile device. To go that option, you get two additional pages of art that won't be on the regular site. It will be two extra pages during the sex scenes in the story! Trust me, that alone is worth the price!" says Adam. And of course, another way to support the site and what Adam is doing is to purchase original art! "I do commissions and believe me, I am pretty much open to doing anything a client wants to get done. Or they can buy the original art from their favorite strip from the site! All of the cash earned goes back into the site to keep it going. This truly is a project funded by all of us because we believe in the overall message and theme of creating a 'sex positive' world."
STARSLAM is a superhero erotica parody story about a new superhero who is slowly discovering her powers. She joins up with a team of other heroes and slowly discovers the joys of superhero companionship. When finally achieving orgasm, she releases a toxin in the air that makes all who are born with the superhero DNA 1,000 times horny than normal! It effects her team and those who they fight against in crazy and unique ways! "This is part parody and part serious. Most of the comics I read of an erotic nature tend to be a bit farcical and nutty. Not much story. Girls are just horny whores and do anything. This is a bit more grounded and told from a female perspective. I think it can attract female readers as well as those who are fans of superhero erotica," Adam adds. New Starslam strips are uploaded every Monday morning.
The other main strip is called PORN WORLD WEEKLY, about two nerds who review porn on a cable access show and never agree. They go to porn conventions, interview (or try to interview) porn stars and always end up failing. Adam says, "This strip is based on characters my best friend and I created a long time ago in a skit type of form. Its basically a funny strip to enjoy on the side as extra content."
Lastly, there are short story EROTIC WRITTEN FICTION at the site. "Erotic fiction is being read in the mainstream now. I think that Fifty Shades of Grey really opened up a lot, and I'm thankful for that! Hopefully now people take that a step further and look for other erotic fiction! I have been working on a book of short stories and I am willing to share some of them on the site to keep people there reading and interested in hanging out and enjoying the site. Again, its all free, so why not!" Adam says.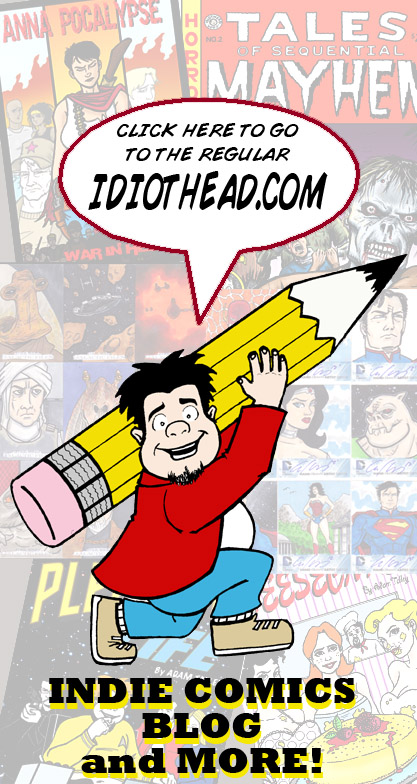 Adam wants the site to become a sort of hub for erotic entertainment and promote what he calls a "sex positive" way of thinking. "I think in the mainstream, minds are starting to become more open to these concepts. People are curious. They are exploring the world and their own lifestyle. I want to be a part of that."
Adam has published in comics for close to twenty years. He has published eight graphic novels, worked with a variety of clients and has done commissions (erotica and not) all over the world. He travels all over the United States promoting himself and his work. Visit his site and enjoy the new comics and stories at http://www.idiothead.com