Once the end-of-year holiday and sales bonanza has died down a little, store shelves lose their sparkling tinsel and multi-colored string lights for a decidedly more passionate hue: the red of eroticism, lustful fervor, and, yes, love most of all. In honor of the Roman Catholic patron of love, the engaged, and the married (as well as bee keepers, fainters, and epileptics, strangely enough), Valentinus of Rome, better known as Saint Valentine, February 14th is celebrated around the world by lovers, suitors, couples, and, in some rather odd ways, the lonely. You, wherever you fall on that spectrum of amorous satisfaction, have been blessed by the porn gods this year and can spend your Valentine's Day "brief period of self-reflection" to abuse yourself with the following smutty V-day episodes:
– The first of three Brazzers scenes focusing on Valentine's Day carnality hit Big Tits at School a few days ago and saw relatively new cocksman Jessy Jones reap the benefits of some lessons given to his anally inclined girlfriend Alby Rhydes by her teacher Alura Jensen, both of whom receive him in all passages for a V-day he'll not soon forget.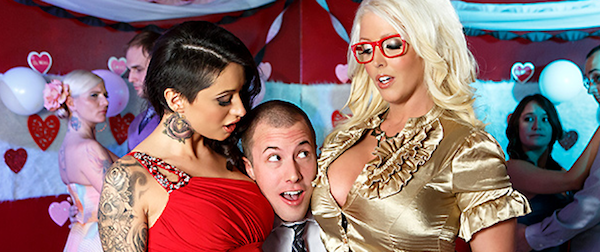 – Over at Mommy Got Boobs, the incomparable Julia Ann offers her stepson (Jessy Jones again) a sample of what his dad's been getting and teaches him a number of lessons in how to please a woman so he doesn't take his girlfriend out for a lovely Valentine's Night dinner only to end up in Dumpsville.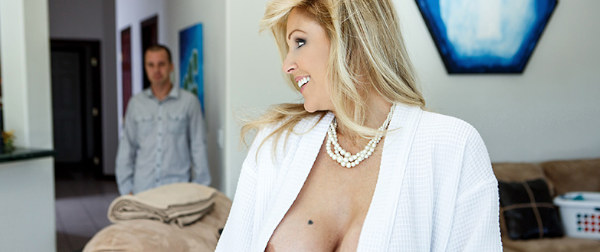 – Devon, the legendary blonde who recently returned to porn, is working late on V-day. Clearly pissed about her situation, she decides to simply make the most of her coworker Toni Ribas, who responds to her flashing by thrusting his instant erection into Devon's throat, snatch, and asshole, because, as Brazzers says, "Valentine's Day is all about spreading the love!"
– With most other significant sites and networks totally dropping the ball this year and apparently not bothering with Valentine's Day at all, it has been left to the (kinda, sorta, maybe) amateurs to do things right: Home of the brightly-lit close-up POV blowjob, Amateur Allure is running a Valentine's Day promotion that offers discounted monthly access ($25 down from $36) and the chance to see Kennedy Leigh 2014 AVN Award Winner (Best POV Sex Scene for Jules Jordan's Ultimate Fuck Toy: Kennedy Leigh) in what promises to be an irresistible oral performance.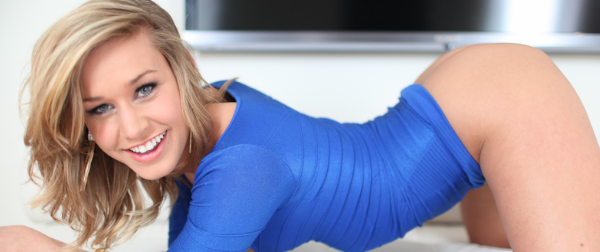 Who knows, maybe you can pre-game with these scenes before heading out for the night loaded with hope, condoms, and a throbbing pair of balls then try convincing your date to get adventurous in similar ways. (If you can pull that one off then, mister, you're a better man than I.)