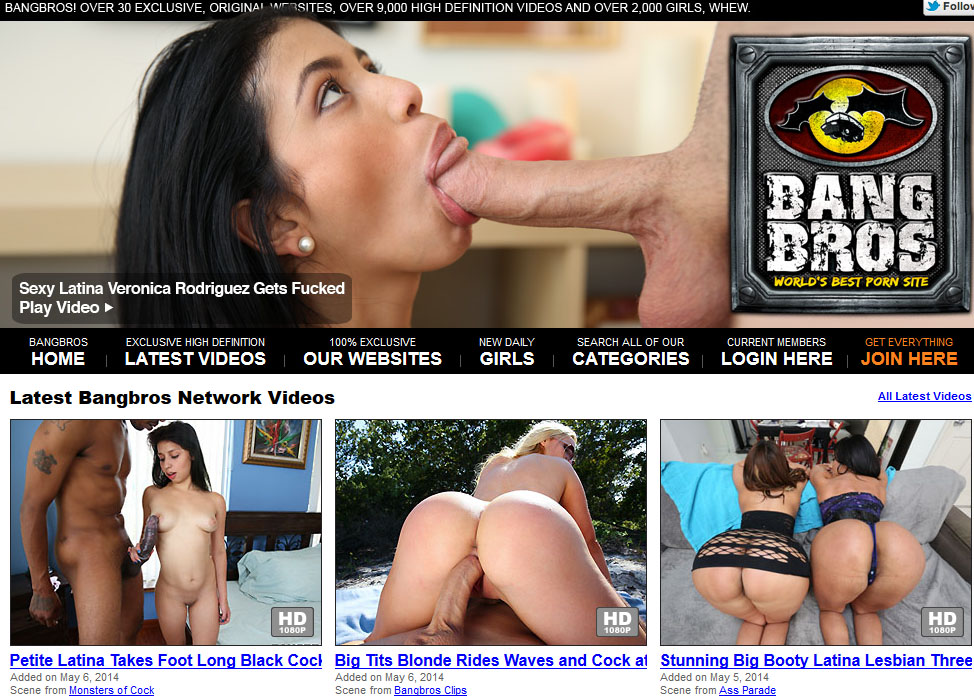 In the year 2075, when porn has either been eradicated entirely from the now-chaste society or hard-wired to our subconsciousness as the only functional stimulation of our erogenous receptors, people will look back on the period between 1998 and 2008 as ten years of pornographic wonderment that solidified a style that would persist until the last load is blown. That style is known as "gonzo" and there's really only one place in town that typifies the gonzo porn experience: Bang Bros.
A network comprising some 48 websites – notables include Ass Parade, Back Room Facials, Backroom MILF, Ball Honeys, Bang Bus, Big Mouthfuls, Big Tit Cream Pie, Big Tits Round Asses, Blowjob Fridays, Facial Fest, Glory Hole Loads, and PAWG (phew!) – Bang Bros is not only really fucking large and abundantly stocked, it's something of a laugh riot, too. The irreverent approach of the main Bang Bros crew sees pranking, spanking, and yogically side-planking sex ignite the screen in a wide variety of situations and scenarios. Although not yet equipped with 1080p High Definition videos, Bang Bros' 720p streams and downloads, and the 2000px galleries accompanying them should do you quite well.
THE MATH:
Bang Bros' 48 websites hold a collective 6,937 scenes (342 of which have been remastered in HD). Breaking that down on a per-dollar basis, your bargain-priced $14.95 month-long membership means you'll be paying a ridiculously low 49¢-per-day, 31¢-per-site, or 2¢-per-scene. Any way you slice it, the current Mr. Pink-endorsed Bang Bros deal gives you an unparalleled gonzo porn experience for a truly tiny price that no porn fanatic in his or her right mind could possibly be convinced was anything other than the best porn deal on the 'net.