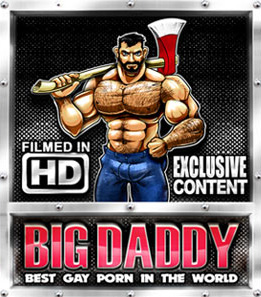 Lately many top-notch Internet-based porn companies have been injecting their profits and savings into some rather exciting new ventures. Naughty America launched College Sugar Babes, Tonight's Girlfriend, and MILF Sugar Babes and Evil Angel is putting ample time, energy, talent, and money into Voracious, an exclusive online feature directed by John Stagliano. When it comes to porn that swings the other way, however, there seems to be fairly little going on. Gay hardcore is, after all, an unfairly mistreated niche and this kind of neglect is usually par for the course. The only apparent exception to this unfortunate rule is Big Daddy, a network pimping itself as holding the "best gay porn in the world." Oh yeah?
Big Daddy's websites cover a ton of sub-genres, from scenes starting out as deep tissue massages to dishing out blowjobs on the 22 Local city bus route while other passengers stare ahead into the eternal void. Everything is hardcore as can be and will no doubt delight lovers of the male physical form, especially when the High Definition 720p video formats are viewed full-screen and the stellar views they provide start inducing salivation. The individual Big Daddy websites, though…? What are they all about? Hell, let's find out!
Bareback Attack takes those stifling latex penis-sheaths and ditches them for the most completely naked assfucking you'll find here at Big Daddy. Butter Loads is all about serving up the creamiest, juiciest facial deposits after a backroom interview with a prospective new performer. It's amateur hour over at ExBF, the Big Daddy site that collects "the hottest pics to show off everyone's boyfriend." Ever ridden a dirty, sparsely populated city bus and felt like having your dick sucked by a hunky top guy? Project City Bus is for you then. Urban Invasion is one of the network's racially oriented endeavors, this time thrusting "minorities" allegedly fuck like bunny rabbits; just don't alert La Migra. For porn fans who need as much dick as possible in their smut, Sausage Party heats things up with a handful of male strippers and a large gathering of celebrating fellas looking for a really good, really memorable evening out partying! Think you've seen female pornstars take big dick? Well, those sluts have got nothing on the gaped-open bottoms who take on the thickest, longest black trouser-snakes in porn at It's Gonna Hurt. Unglory hole has a woman and a male sausage-smoker hitting up local glory holes to fool straight dudes into having their loads sucked out by bona fide homos! Thug Hunter hits the 'hood in search of studly brothers, getting his whiteboy fill of man-meat. Out in Public takes public exhibitionism to all new heights. Even Rub Him, which operates under the 'massage porn' umbrella, makes a very strong impression, thanks largely to the 720p HD videos available on all sites that here show the taut, toned masculine form in the finest possible fashion.
Now, don't all those sites sound like winners? Well, what if I told you that most of these sites also update once-a-week and have ever-growing archives of high-res photos and awesome HD videos that look utterly fantastic, as good as the best A/V offerings from Bang Bros, the open and affirming pater familias of Big Daddy. Come on, gents. Tell me Big Daddy doesn't sound like the rugged, masculine all-homo hardcore extravaganza for you, I dare ya!