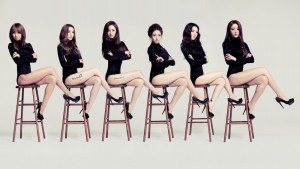 Fan reactions were dismissive when CBS issued a memorandum requesting "buttocks and female breasts [be] adequately covered" for its broadcast of the 2013 Grammy Awards in February, essentially amounting to "If Rhianna wants to show her underboob, we wanna see it!" And, true to expectations, there was plenty of cleavage, thigh, and lower-back on display throughout the ceremony. In South Korea's thriving pop music industry, however, even second-tier artists find themselves subject to sexual censorship.
Dal Shabet (meaning "Moon Sherbet") is a six-member girl group signed to Happy Face Entertainment, the company founded by producing duo E-Tribe, the pair responsible for Girls' Generation's super-massive-hit 'Gee', arguably the song that pushed KPop into the global consciousness, have been the subject of censorship demands from TV station SBS, who objected to the allegedly provocative lyrics of the group's latest single, 'Be Ambitious'. The objectionable lines – "When is [our relationship] progressing to the next level / Going home even when drunk / Are you really a man? / Are you being shy?" – were accepted by the MBC and KBS, the two other major TV stations on which Dal Shabet were booked for promotional performances, but SBS insisted and eventually got the changes they requested. The new lyrics – "Do you even find my aegyo (cutsey behavior) cute? / Why do you keep looking at the clock? / Look at me / Do you really like me?" – are definitely not as provocative as those deemed questionable, but apparently that wasn't enough for some of those rejected the message of 'Be Ambitious', one of women demanding the attention and affection they crave instead of being taken for granted or ignored entirely.
The Korean title of 'Be Ambitious', '?? ?????? ??' translates to 'Look at My Legs' and it's clear from the amount of lower limb skin shown in the group's concept images and music video that Serri, Jiyul, Ah Young, GaEun, Woohee, and Subin were going to attract ample attention from fans and detractors both for their flashy new image. (Dal Shabet have historically been something of a whipping boy for netizens' frustration and bile, unfairly so.) Somewhat surprisingly, though, the second prominent demand for censorship came not from the entertainment industry, but from a male rights group called Man of Korea (MOK). Claiming "the lyrics and music video of 'Be Ambitious' depreciate both women and men, and it's harmful to the youth,' MOK has requested the song be banned from further distribution, also claiming the song will induce "sexual assault from the youth by planting the wrong influence about women and sex" and citing scenes in the music video allegedly "depreciating the 60,000 soldiers" currently serving South Korea as similarly deplorable.
Gee, you'd think a national pop industry known for celebrating the ridiculous and outlandish (and the female leg) would recognize a work of satirical pop greatness when it roars onto the Gaon charts!